In a sudden move, Columbus Blue Jackets center Mikko Koivu has announced his retirement after just seven games this season. The 37-year-old released a statement explaining his decision:
This was not an easy decision for me as I have loved every minute of my short time in Columbus and really hoped to be able to help this team accomplish its goals this season, but the bottom line is I haven't been able to get to the level of play that I need to be true to myself and fair to my teammates, so the time is right for me to retire from hockey. I have been extremely blessed and I am eternally grateful to the Minnesota Wild and Columbus Blue Jackets organizations for the opportunities they have given me to live out my dreams of playing in the National Hockey League for the past 16 years.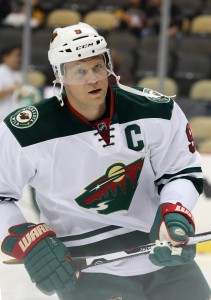 Koivu will forfeit the rest of his one-year contract that carried a $1.5MM salary this season and his cap hit will come off the books for Columbus. His career ends with 1,035 regular season games, all but seven of which came with the Minnesota Wild. Just two of his 711 career points came with Columbus.
This seven-game, two-point season with Columbus is an odd addendum to a great career that was spent almost entirely with one franchise. Koivu is the Wild franchise leader for games played, assists, points, and plus/minus, while also being the longest-tenured captain in Minnesota history. The team decided to part ways with him in the offseason after several down seasons, but instead of retiring Koivu gave it one last try in Columbus.
It has been obvious for some time that Koivu wasn't the same two-way wizard he was for so long in Minnesota, but this season he was limited to just over 12 minutes a night for the Blue Jackets. He played just nine minutes on Sunday, was a healthy scratch on Monday, and now retired on Tuesday. If he wasn't going to play much, it never really made sense for the veteran player to put his body through a gruelling COVID-affected season, especially after so many major injuries have taken their toll on Koivu over the years.
Though he unfortunately never found much playoff success, Koivu did reach the postseason on nine different occasions throughout his long career. He'll be remembered as one of the most consistent defensive centers of his era, receiving Selke Trophy votes in ten different seasons and finishing in the top-five on three different occasions.
Photo courtesy of USA Today Sports Images