Over the offseason, Hurricanes GM Don Waddell had indicated that one of his priorities was to get winger Andrei Svechnikov signed to a contract extension.  The pending restricted free agent is now in the final year of his entry-level contract and has been a big part of Carolina's success over the past couple of seasons.  However, he's in a bit of a slump as of late with just one goal – an empty-netter – over the last 11 games.  As his on-ice play has slowed down, so too have his contract talks, reports Luke DeCock of the Raleigh News and Observer.
Although discussions on this deal started back in the offseason, Svechnikov's agent Todd Diamond indicated that it may take until the summer to get something done with the shortened season also acting as an impediment in talks:
Things are kind of status quo. There's a time and place to have deeper talks. There's just so many games right now, it's not the right environment for it. It may take into the offseason.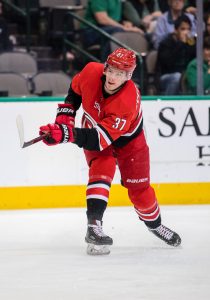 While Carolina would certainly like to get Svechnikov signed to a long-term deal, a bridge contract certainly would seem to make more sense on the surface at this point.  They already have more than $53MM in commitments for next season, per CapFriendly, and the 20-year-old is hardly the only one in need of a new contract.  Defenseman Dougie Hamilton is a pending unrestricted free agent while their goalie tandem of Petr Mrazek and James Reimer are also UFA-eligible.  Getting deals done to re-sign or replace them and round out the rest of the roster doesn't make a long-term contract that buys out some UFA-eligible years the most viable of options.  Team owner Tom Dundon acknowledged to DeCock that a bridge deal is the likeliest route they'll take and is quite confident in getting an agreement in place:
It's easy, because he's ours, we're going to pay him fair and get it done.  That's just when not if. We want to get it done. These are fairly easy deals to get done. The market, if you look at the bridge deals that have been done, it's not that hard.
Svechnikov will be entering the RFA market this offseason without arbitration eligibility, something that he needs one more year of service time to reach.  Even with the lower goal output as of late, he still has 16 points in 19 games to sit one off the team lead and had a 24-goal, 61-point campaign in 2019-20.  Accordingly, even a short-term deal could creep into the $5MM range but that would still allow the Hurricanes to have enough cap flexibility to take care of some of those other free agents.  It just looks like it's going to take a little while longer for them to get a deal done.
Photo courtesy of USA Today Sports Images.