The New Jersey Devils have brought back a familiar face, signing free agent defenseman Sami Vatanen to a one-year deal. The contract is worth $2MM this season and leaves him an unrestricted free agent once again next offseason.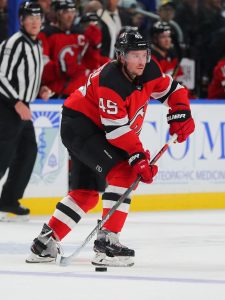 Vatanen, 29, spent parts of three seasons with the Devils before a midseason trade took him to the Carolina Hurricanes last year. As he was dealing with an injury at the time, he failed to play in a single regular season game with the Hurricanes before the season was shut down. He did suit up seven times in the postseason, but that's all the Hurricanes have to show for a package that included Janne Kuokkanen and a 2020 third-round pick. Now the Devils have their cake and are eating it too as Vatanen returns on a very reasonable deal.
The Devils had already added some new faces to the back end this offseason, acquiring Ryan Murray from the Columbus Blue Jackets and signing Dmitry Kulikov to a one-year deal. With Vatanen's new short-term deal, it means only Damon Severson is signed through the 2022-23 season among Devils (one-way) defensemen. That could lead to some pretty impressive turnover in the coming months, especially when considering the organization has several top defensive prospects like Ty Smith, Reilly Walsh, and Kevin Bahl waiting in the wings.
Of course, even though Vatanen is coming in late to the party, that doesn't mean he's a player to overlook. The veteran defenseman has been a do-it-all option throughout his entire career, lining up in all situations and logging huge minutes. In 434 games he has recorded 194 points, a nice 82-game average of 36. It's hard to find that kind of offensive production on the free agent defensive market at any time, let alone a few days before the season begins. Vatanen, who is right-handed, also has experience playing both sides and could end up on the left regularly in New Jersey.
Photo courtesy of USA Today Sports Images