The Minnesota Wild and Colorado Avalanche have swapped a pair of veteran defensemen. The Wild have acquired Ian Cole in exchange for Greg Pateryn, with CapFriendly also reporting that the Avalanche have retained $800K of Cole's cap hit.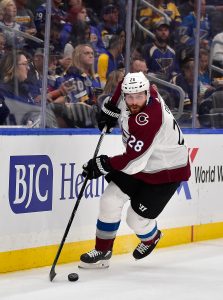 Cole, 31, carries a $4.25MM cap hit in the final season of a three-year, $12.75MM contract he signed with Colorado in 2018. He is scheduled to become an unrestricted free agent at the end of the year and had recently seen his role on the Avalanche greatly reduced. Though he has experience on both sides of the ice, the left-handed defenseman was made somewhat redundant now after the team acquired Devon Toews from the New York Islanders in the offseason. Add in the smooth development of top prospect Bowen Byram who is pushing for a full-time role on the NHL roster, and you can see why the Avalanche had floated Cole's name in recent weeks.
In Pateryn, 30, the Avalanche bring in a right-handed option that could be a better fit for the team in a depth role. Though he made his debut in 2012-13, Pateryn has still played just 270 games in the NHL and has never averaged more than 20 minutes a night. His cap hit is also quite a bit lower than Cole's at just $2.25MM this season, though the retention does reduce the savings. In Colorado, it's hard to see Pateryn even getting much more opportunity than the 12:36 he averaged through Minnesota's first three games.
For the Wild though, upgrading from Pateryn to Cole could be a real difference-maker. Minnesota's top four defensemen have all averaged more than 23 minutes a night through the early part of the season, with very little trust being placed in Pateryn and Carson Soucy. The two-time Stanley Cup winner Cole can take some of the pressure off those stars, while perhaps rejuvenating his own career. It was just last season that Cole recorded 26 points in 65 games for the Avalanche, nothing to sneeze at for a player without any powerplay time. His all-around ability will be a nice addition in Minnesota for a team racing for a playoff spot.
That new opportunity may also be exactly what Cole was looking for with free agency looming. Even though the Colorado prospect pipeline had pushed him down the depth chart, he seems likely to enter the offseason as a sought-after target at age-32. Adding to the 89 career playoff games he has suited up for would only improve his stock. That is of course if Wild GM Bill Guerin even lets him go that far; the two have a history from their days together in Pittsburgh and the Minnesota executive has shown a willingness to spend heavily on his defense.
Perhaps the biggest winner here though is Byram, who likely will be given a chance to jump into Colorado's lineup on at least a part-time basis. The fourth-overall pick in 2019, the 19-year-old looked dominant during the World Junior Championship a few weeks ago and should quickly make the transition to the NHL. Though returning to junior would still technically be an option if and when the WHL starts up, there seems little more that Byram can learn from his time there after scoring 149 points in his last 139 games for the Vancouver Giants.
Michael Russo of The Athletic was first to report the deal.
Photo courtesy of USA Today Sports Images