The PLD-Watch is on, as NHL fans all over the world keep an eye on the Columbus Blue Jackets forward. Pierre-Luc Dubois, who broke out last summer in the bubble by showing the entire league that he can hang with the elite players in the game, has asked for a trade out of Columbus. According to his head coach John Tortorella, the reasons for his request still aren't clear, but it means teams all around the league are calling GM Jarmo Kekalainen to see what it would cost to acquire the 22-year-old center.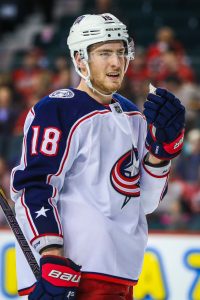 Almost everyone's immediate thought was the Montreal Canadiens, who have been searching for a French-Canadian star to build around for years. Perhaps that thinking got to Dubois too, as NHL insider Nick Kypreos tweets that the center's "first destination choice" would be in Montreal. According to Kypreos the Blue Jackets have asked about Nick Suzuki and were told that Alexander Romanov has been deemed "untouchable." Brian Hedger of the Columbus Post-Dispatch has heard a package around Jesperi Kotkaniemi and Victor Mete could be the ask, but notes that for the time being, Dubois figures to suit up for the Blue Jackets and center the top line tonight.
Remember that Dubois signed a two-year, $10MM contract just two weeks ago and will be a restricted free agent once again in the summer of 2022. His performance has been strong, clearly, but he did have just 49 points in 70 games during his third full NHL season in 2019-20. Suzuki, who was the 13th overall pick in 2017, scored 41 in 71 as a rookie last season, arguably looked like the Canadiens' best forward in the bubble and again last night. He would certainly be a high price to pay, just as Kotkaniemi, the third-overall pick from 2018 would be.
The problem for Montreal would be that the Blue Jackets figure to have up to two-thirds of the league checking in on Dubois. The Blue Jackets have made clear that they're not rushing to get him out the door and a low-ball offer is not expected to get much traction.
For now, the Blue Jackets will have Dubois in the middle of the ice when they start their season in Nashville this evening. None of the speculation on his trade market will matter when the puck drops. At least not until the final whistle sounds.
Photo courtesy of USA Today Sports Images