It comes with plenty of hype and little surprise; Dylan Larkin is the next captain of the Detroit Red Wings. The team announced the selection today on the eve of their season opener against the Carolina Hurricanes. Larkin will be the 37th captain in franchise history, succeeding Henrik Zetterberg who was last to wear the "C."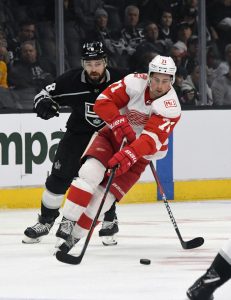 From the moment he burst onto the scene in 2015 with his blazing speed and scoring touch, Larkin was destined to take over this role. In the 2015-16 season he scored 23 goals, leading the entire Red Wings team even as a rookie, and trailing only Zetterberg and Pavel Datsyuk in points. It was as obvious then as it is now that Larkin would be the next face of the franchise, following in some heavy footsteps.
Now heading into his sixth NHL season, the 24-year-old becomes captain after scoring 266 points in 389 career games. He hasn't been able to lead the Red Wings back to the playoffs but will be an anchor in the middle of the rebuild as GM Steve Yzerman starts to fill the roster up with talented youngsters. He has three years left on his current contract, one of just two players signed through the 2022-23 season and his next task will be to help the Red Wings become competitive again.
Given the high draft picks that Detroit has used the last few seasons, picking star prospects like Moritz Seider and Lucas Raymond, there's a chance that Larkin isn't the most talented player on the roster by the end of this contract. But there's also a chance he gets back to the 32-goal, 73-point performance he had in 2018-19 and puts himself among the league's all-stars once again.
Photo courtesy of USA Today Sports Images