The Tampa Bay Lightning have reached agreements with a pair of free agent defensemen, signing Erik Cernak and Jan Rutta. Cernak's new three-year contract will carry an average annual value of $2.95MM, while Rutta's two-year pact will come in at a $1.3MM AAV.
'How can the Lightning afford that,' you might ask yourself, but reports have recently surfaced that the team could potentially be without Nikita Kucherov to start the year. If the superstar is forced onto long-term injured reserve, the team could potentially use his $9.5MM in cap space for replacements. The move would be complicated, especially if Kucherov returned at some point during the regular season, but could give the Lightning the flexibility needed to sign these two and the still restricted free agent Anthony Cirelli.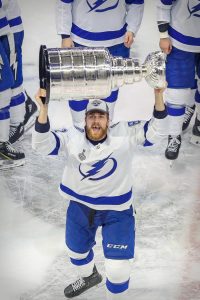 Cernak, 23, is another success story for the amateur scouting department, as he was acquired by the team before he ever played a professional game. Selected 43rd overall by the Los Angeles Kings in 2015, Cernak was part of the surprising Ben Bishop trade in 2017 that saw the veteran netminder head across the country as Andrei Vasilevskiy took over the top job. Bishop would only end up playing in seven total games for the Kings, who still had Jonathan Quick, and would then sign with the Dallas Stars in the offseason.
The Lightning would continue Cernak's development in the minor leagues, but it took just one AHL season for him to show he was ready for the next step. The dependable, big-bodied Slovak has played 125 regular season games over the last two seasons in Tampa Bay and was a big part of the team's Stanley Cup run this summer. While he'll likely never be a big point producer, he balances out the back end and allows more offensive players to take some chances.
Rutta meanwhile was never drafted, but the Lightning acquired him from the Chicago Blackhawks in 2019 as part of a depth defender swap. Sending the disappointing Slater Koekkoek—who had been a tenth overall pick—the other way, Rutta became a valued member of the Lightning and has now signed two new deals with the team.
Though he only played in 33 regular season games and five playoff contests, Rutta is a perfect depth option for the Lightning that can move in and out of the lineup this season, or even spend some time on the taxi squad. Tampa Bay brought back Luke Schenn on an inexpensive contract for a similar reason, but did lose names like Kevin Shattenkirk and Zach Bogosian from their championship roster.
Make no mistake, this is a difficult puzzle for the Lightning to put together even with the Kucherov news. The team is now quite a bit over the salary cap ceiling and still has Cirelli to sign (not to mention Mathieu Joseph and Alexander Volkov).
Photo courtesy of USA Today Sports Images