When the Dallas Stars released their training camp roster this afternoon, a few names were notably marked with asterisks. Ben Bishop and Tyler Seguin were both listed as "Injured Player Not Participating in Training Camp" after offseason surgeries, but with them was also Stephen Johns. Not only will the veteran defenseman miss camp, but according to Saad Yousuf of The Athletic, Johns will not play at all this season.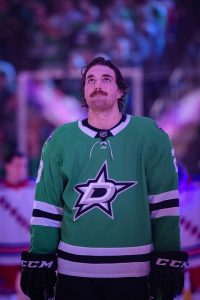 In one of the most disheartening moments of the playoff bubble, Johns was forced from the Stars' first game against the Calgary Flames just a few months after making his triumphant return to the lineup. After missing nearly two full years with post-concussion symptoms, Johns had returned in January 2020 and played 17 games down the stretch for the Stars. He even made it through three round-robin games with Dallas in the bubble, but it appears as those may potentially be the final matches of his career. Yousuf writes that it is premature to consider Johns' career definitely over, but notes that the 28-year-old will be an unrestricted free agent when his contract expires after this season.
His $2.35MM cap hit can be moved to long-term injured reserve when necessary to make some additional room for the Stars, but this is certainly not a celebratory announcement for fans of the defenseman. Johns, selected 60th overall in 2010 by the Chicago Blackhawks, made his NHL debut with the Stars in 2016, and looked oh-so-promising early on. He was big—standing 6'4″ 225-lbs—could skate well and had upside at both ends of the rink. He would go on to score a career-high eight goals in the 2017-18 season before a concussion threw his career off track in March. After working extremely hard on his rehab, he returned last season and looked like a solid NHL contributor once again.
If this is the end of his playing career, it would finish with 167 regular season games played in the NHL. Hopefully, somehow, Johns will be able to get back on the ice. It won't be this season and it may not be for the Stars.
Photo courtesy of USA Today Sports Images