The Tampa Bay Lightning may have solved their cap problem, but it's at the expense of one of the best players in the world. GM Julien Brisbois told reporters including Joe Smith of The Athletic that Nikita Kucherov will need hip surgery and will not play in this regular season. Kucherov can now be moved to long-term injured reserve to give the team more cap flexibility and return in the playoffs (if healthy) when there is no salary cap.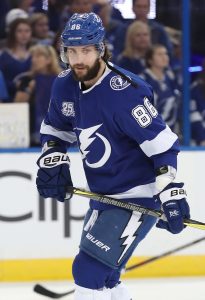 Still, this is certainly not an ideal situation for the Lightning as they look to defend their Stanley Cup championship. Kucherov is without a doubt a difference-maker on the ice and easily could have been awarded the Conn Smythe after leading the playoffs in scoring with 34 points in 25 games. The 2019 Hart, Lindsey, and Art Ross winner, the Russian winger had a career-high 128 points two seasons ago before returning with 85 in 68 during a pandemic-shortened 2019-20.
Moving his $9.5MM cap hit to LTIR though can open some interesting scenarios for the Lightning. Steven Stamkos, the team's other injured superstar, is expected to be ready for opening day, meaning the team may actually have a few more moves to come. Even with the added flexibility of putting Kucherov on reserve, the team still only has about $3.5MM in space to sign breakout checking center Anthony Cirelli, who remains a restricted free agent. Though Cirelli doesn't have a ton of leverage right now if he wants to play this season, it still seems unlikely that he signs for less than that unless it is an extremely short-term deal.
More likely, the team is still going to have to pursue other opportunities to shed one of their high-priced forwards. Tyler Johnson was the obvious option earlier this summer when he agreed to give the team a short list of trade destinations, but nothing was worked out and even when the Lightning placed him on waivers, he went unclaimed. Johnson, Ondrej Palat, and Yanni Gourde all count for at least $5MM against the cap this season and all have full no-trade clauses. Alex Killorn, who is the next highest-paid forward behind those three at $4.45MM has a 16-team no-trade clause.
Of course, there may be some other more creative ways around the cap given this year's taxi squad rules. In any case, the team will have to secure a playoff spot without their most dangerous offensive weapon—not a great situation in an anything-can-happen shortened season.
Photo courtesy of USA Today Sports Images