In today's NHL, by the time a player reaches the age of 35, many consider his career to be over. 'He's too slow,' is usually the critique, given how fast the game has gotten over the last few decades. Even players that were once considered strong skaters are being passed by young phenoms, able to carve up the ice. But for some, that isn't the case. The rare player is still effective into his mid and late-thirties, able to compensate for the declining footspeed with experience and awareness.
Joe Thornton, currently the oldest active player under contract in the NHL, recently signed a new deal with the Toronto Maple Leafs at age-40. He's just a few months the senior his longtime teammate Patrick Marleau, who also just inked a new deal, this time to return to the San Jose Sharks. Henrik Lundqvist is the oldest goaltender in the league, though he's only a few weeks older than Mike Smith.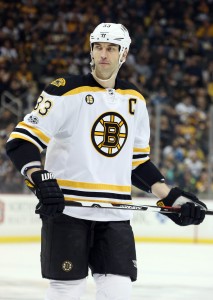 For a long time now, Zdeno Chara has held the title of the oldest in the league. But the 43-year-old defenseman has still yet to sign a contract for the upcoming season. Perhaps after more than twenty years in the league, he's prepared to hang up his skates, but you certainly can't rule him out at this point. He's still an effective penalty killer and can add instant leadership and experience to any locker room.
But beyond Chara, there exist some interesting older players on the open market.
Ron Hainsey, for instance, is coming off a season in which he logged nearly 21 minutes a night for the Ottawa Senators. The 39-year-old defenseman actually led the team in +/- and even recorded 12 points in 64 games, despite heavy defensive deployment. Hainsey averaged more than three minutes of short-handed ice time, but was actually quite an effective penalty killer.
Then there is Andy Greene, a longtime member of the New Jersey Devils who actually served as captain for five seasons. Not only did he earn $5MM on the last year of his deal, but he also netted the Devils a second-round pick at the deadline when he was acquired by the New York Islanders. Greene actually scored at a better point-per-game pace than Chara and is another respected leader.
Then there are the forwards. The whole league just watched Corey Perry go all the way to the Stanley Cup Final with the Dallas Stars, looking rejuvenated and as feisty as ever. Perry scored as many goals (5) in the postseason as he did in the regular season, but could still be a valuable fourth-line addition for a team that wants that bite for the playoffs.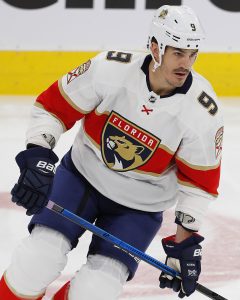 Brian Boyle is also player that has plenty of playoff experience and can add a bit of physical presence. He'll turn 36 in December but still scored 15 points in 39 games for the Florida Panthers this season, an 82-game pace that puts him over 30. There's nothing wrong with that kind of production, especially when it comes along with a 6'6″ frame that is one of the most imposing in all of professional hockey.
Not to be forgotten of course is Ilya Kovalchuk, the enigmatic winger that is likely headed for the Hall of Fame one day. He could reach the 1,000 regular season game threshold if he plays in the NHL in 2020-21, and will likely break 900 career points as well. Kovalchuk is certainly not playoff-tested and has seemingly disappeared at times throughout his career, but that short stint in Montreal this season—when he scored 13 points in 22 games and looked re-energized—may excite a front office even as he approaches his 38th birthday next spring.
Who would you sign? All of these players would be eligible for bonus-laden deals, if they agree to a one-year contract. Could they still play a role on your NHL team? Cast your vote below and make sure to explain your thoughts in the comments.
[Mobile users click here to vote]
Photos courtesy of USA Today Sports Images