The Montreal Canadiens have done quite a bit of work this offseason, reshaping their roster while also locking up a couple of their core pieces. Tyler Toffoli, Josh Anderson, Joel Edmundson, and Jake Allen will provide a new look for the team next season, while Brendan Gallagher and Jeff Petry were both given expensive, long-term extensions. One other name that some have hoped would earn an extension is Phillip Danault, who is heading into the final season of his three-year, $9.25MM deal and coming off another strong two-way performance.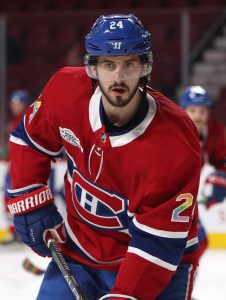 Danault, 27, will likely never be a 30-goal scorer or top offensive producer at the NHL level, but has provided quite a bit of value for the Canadiens in other ways. Finishing seventh in Selke voting in 2019 and sixth this past year, he has also managed to record 165 points in 286 games over the last four seasons. One of the best faceoff men in the league, an excellent penalty killer, and a strong role model for the Canadiens younger centers, a long-term extension could be a good fit for both sides.
Unfortunately, it doesn't appear as though those talks have happened yet. Danault spoke with reporters today including Eric Engels of Sportsnet and told them "at this point, there's no negotiations" going on regarding his next contract. Of course, it's not even clear if he wants to stay in Montreal given the fact that his role may eventually be reduced, with the emergence of Jesperi Kotkaniemi and Nick Suzuki. After the Canadiens were eliminated from the 2020 postseason—where coincidentally Kotkaniemi and Suzuki both played well and outscored Danault—he told reporters that he doesn't necessarily want to be relegated to a purely defensive role on the team and believes he has even more offensive ability to contribute.
For the Canadiens, having Danault as a third-line option would be a luxury, one perhaps they're not willing to pay for. The team traded away Max Domi this offseason because there wasn't a clear fit for him down the middle and he was going to need a big raise. A similar departure may happen to Danault if the team believes there isn't a financial match for the role they want him to play.
There is good reason to believe other teams would be willing to give him that increased opportunity though, even if his career-high of 13 goals isn't very impressive. Strong possession numbers and solid production at even-strength—just 12 of Danault's 175 career points have come on the powerplay—are exactly what many are looking for down the middle.
Photo courtesy of USA Today Sports Images