You can forgive the Tampa Bay Lightning for taking their time this offseason. The team is celebrating the second Stanley Cup championship in franchise history and first for this super-talented core that has been so dominant for the last several years. Since Jon Cooper's first full season as head coach of the team in 2013-14, the Lightning have put up a record of 343-172-47, reached the playoffs in six of seven years, and made it to at least the Eastern Conference Finals in four of those. Now, after finally getting over the hump and raising that silver chalice over their heads, GM Julien BriseBois and his front office staff have a ton of work to do.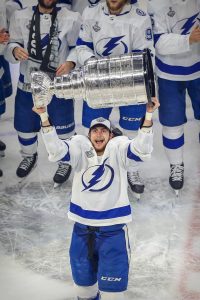 In fact, there is no one with more restricted free agents still to get under contract in the entire league. And it's not just quantity over quality in Tampa Bay, the players still without contracts are key members of the team now and for the future.
Anthony Cirelli, the unheralded third-round pick that has turned himself into one of the best two-way centers in the league, just finished fourth in Selke Trophy voting for a season played at age-22. He scored 44 points in 68 games and saw his minutes skyrocket, becoming the most important forward on Tampa Bay's penalty kill. While he may not get the fanfare of some of the other superstars on the roster, BriseBois and his staff know exactly how important Cirelli is to the team's future. It is likely why they were trying to move Tyler Johnson and his $5MM cap hit early in the offseason, even waiving the veteran forward at one point.
But it's not just Cirelli that will command a substantial raise if the Lightning want to sign multi-year contracts with their young free agents. Mikhail Sergachev also sits waiting for a new contract after his best year in the NHL, one which saw him turn from sheltered offensive piece to full-fledged top-four powerhouse. Sergachev, acquired from the Montreal Canadiens in exchange for Jonathan Drouin in 2017, has seen his average time on ice increase dramatically each of his three seasons in Tampa Bay. In 2019-20 he averaged more than 20 minutes a night, seeing more than anyone not named Victor Hedman at even-strength. In a season completed while he was still 21, Sergachev still put up excellent offensive numbers—ten goals and 34 points in 70 games—but became a player the team can rely on much more heavily and in many more situations.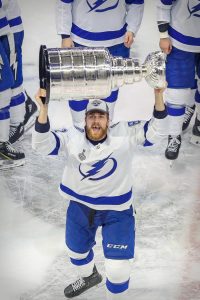 It doesn't end there. Erik Cernak and his nearly three minutes of nightly short-handed ice time is also an RFA. For two seasons the 23-year-old has been a versatile, physical presence that counterbalances some of the team's more skilled defenders, and was a fearless shot-blocker in the playoffs. In 25 games he recorded 52 blocks, a total that beat out even veteran warrior Ryan McDonagh for the team lead. Even though Cernak doesn't have the offensive chops of Sergachev, he'll still need a considerable raise after his early-career performance.
Even past those three, several other depth options are still waiting on new deals. Mathieu Joseph and Alexander Volkov, who each suited up at various times this season and will likely be asked to do the same in 2020-21, are RFAs with no arbitration rights. Neither one has a lot of leverage in talks, but their negotiations are still work to be done before the start of training camp. Dominik Masin was also issued a qualifying offer, but the 24-year-old defenseman is currently playing in the KHL.
Sure, these contracts could come together quickly and at any moment, but the Lightning can't just sign them all and call it a day. By CapFriendly's count, the team has less than $3MM in cap space with a roster of 18 players, meaning substantial raises for the three big names isn't possible without moving other players out. Johnson has been the name thrown around most, but even if his $5MM cap hit is shed completely that still may not give them enough room to sign everyone.
Photos courtesy of USA Today Sports Images