The Toronto Maple Leafs have brought another defender into the fold, this time signing Stanley Cup champion Zach Bogosian to a one-year, $1MM contract.
After adding T.J. Brodie yesterday on a four-year, $20MM contract, the Maple Leafs had changed the makeup of their defense but also pushed themselves over the salary cap ceiling. Today's move of Andreas Johnsson changed that, meaning they can bring in a little more experience with Bogosian.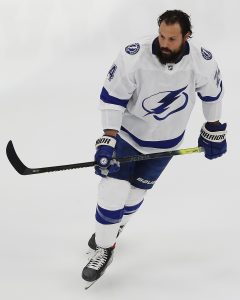 The 30-year-old defenseman had quite the rollercoaster 2019-20, going from a contract termination with the Buffalo Sabres in late February to lifting the Stanley Cup with the Tampa Bay Lightning in late September. The Sabres were able to terminate the veteran's contract after he failed to report to the Rochester Americans of the AHL, allowing him to sign a new deal with Tampa Bay for a playoff run.
A playoff run that Bogosian had been searching for his entire career. The third-overall pick in 2008, Bogosian had never played in a single postseason game, missing the playoffs regularly with the Atlanta Thrashers/Winnipeg Jets and then Sabres. He managed to carve out a role on a deep Tampa team and averaged almost 18 minutes a game in the playoffs. Of course, that doesn't include the several scratches he faced in the finals, where he suited up only twice against Dallas.
Even though he does possess good size, standing 6'3″ and weighing over 220-lbs, Bogosian isn't actually the most physical defender on the ice. He will engage in front of the net and certainly doesn't shy away from contact, but he was actually known as a puck-mover early in his career and can still contribute a little offensively.
That doesn't necessarily mean he has a place in Toronto's top-six right away, however. The Maple Leafs have eight NHL options including unsigned restricted free agent Travis Dermott, KHL import Mikko Lehtonen and top prospect Rasmus Sandin, meaning there may be another move in the coming days to free up a little more space.
Photo courtesy of USA Today Sports Images