In their second trade of the day, the San Jose Sharks and Minnesota Wild have announced that Devan Dubnyk is heading to California. The Wild will receive a 2022 fifth-round pick in return, while the Sharks will receive a 2022 seventh-round selection in addition to the veteran goaltender. Minnesota will also be retaining half of Dubnyk's remaining $4.33MM cap hit for the 2020-21 season.
The two teams completed an earlier trade that saw Ryan Donato go to San Jose in exchange for a 2021 third-round pick. Sharks GM Doug Wilson released a statement on the latest deal:
Devan has been one of the League's top goaltenders for many years and after playing so many years in the Western Conference, is someone our hockey staff is very familiar with. As we head into what will surely be a unique season, his acquisition gives us a high-quality and experienced tandem of netminders.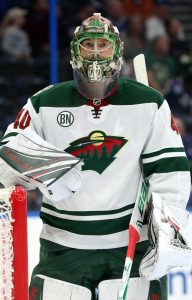 For the Sharks, this means the team will have an experienced tandem, but one that will need drastic performance improvements next season. The team's starter Martin Jones has now posted back-to-back seasons with an .896 save percentage, allowing 394 goals in 103 appearances. That save percentage was third-worst in the NHL last season among goaltenders with at least 30 appearances, ahead of Pekka Rinne and, unfortunately, Dubnyk. The Minnesota netminder posted a dreadful .890 in his 30 games for the Wild, though does at least have several recent strong seasons to fall back on. In 2018-19, when Jones was still struggling, Dubnyk posted a .913 save percentage in a league-leading 67 appearances for Minnesota.
Amazingly, these two goaltenders finished fifth and sixth in Vezina Trophy voting in 2017. While it seems unlikely they can get back to that level in 2020, it's not necessarily out of the question. With Jones signed for four more seasons at a $5.75MM cap hit, the Sharks will try everything to get him back to playing at a high level. Dubnyk meanwhile comes in at a relatively inexpensive $2.17MM cap hit after the salary retention, plus is actually set to earn even less in actual salary.
The Sharks also paid a very low price for the acquisition, swapping a pick two rounds up for the chance to see what Dubnyk can do in San Jose. That's almost nothing, though given the overflowing goaltending market this offseason this acquisition certainly won't excite many fans.
For Minnesota, moving on from Dubnyk was an obvious move for GM Bill Guerin. The team wants to get younger and provide opportunities for some of their prospects, which could include reigning AHL Goaltender of the Year Kaapo Kahkonen. The Wild also still have Alex Stalock under contract for two seasons at just a $785K cap hit. Kahkonen, who is just 24 and coming off an outstanding season in the AHL in which he posted a .927 save percentage, is an arbitration-eligible restricted free agent in need of a new deal. Whether he can handle the starting job isn't clear, but with Dubnyk out of the way, there is a clear path to the net.
Photo courtesy of USA Today Sports Images