With free agency now just a few days away, teams are preparing for a frenzy of action.  There will be several prominent players set to hit the open market while many teams have key restricted free agents to re-sign.  The Flyers will be entering free agency with a relatively light list of players needing new contracts but they will have a few to retain or replace.
Key Restricted Free Agents
F Nolan Patrick – Technically, his designation is simply unsigned as because he missed all of this past season, he doesn't have enough service time to technically become an RFA (that's eligible for an offer sheet).  It's safe to say that Patrick will be tendered an offer, especially since GM Chuck Fletcher expressed optimism that he'd be able to return next season.  However, after two relatively quiet seasons and now an entire year away from the game, it's safe to say that the 2017 second-overall selection is heading for a cheap short-term contract until he can show that he has fully recovered from his migraines and is ready to become a part of their core forwards.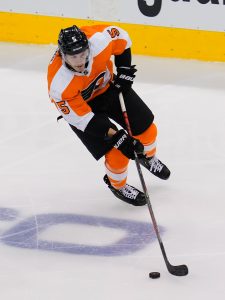 D Philippe Myers – The 23-year-old hasn't yet played a full season with the Flyers but he has already become an important part of their back end and logged just over 20 minutes per night in the playoffs.  The sudden retirement of Matt Niskanen just opened up an even bigger opportunity for Myers to seize next season as he now stands as their top right-shot defender.  With that in mind, it may make sense from his perspective to take a short-term contract and hit arbitration coming off of what should be a career year.  From Philadelphia's perspective, they'd be wise to try to lock him up long-term now before the cost inevitably goes up.  They now have the cap room to do such a move without significantly affecting their cap situation with Niskanen's $5.75MM set to come off the books.  For a player with just 87 career games played (regular season and playoffs), this is quickly becoming an intriguing contract.
Other RFAs: F Nathan Noel, F Mikhail Vorobyev
Key Unrestricted Free Agents
F Tyler Pitlick – After a down season with Dallas in 2018-19, the change of scenery helped Pitlick as he posted the second-best offensive numbers of his career despite the pandemic wiping out a month of the regular season.  He can kill penalties and play with some edge in a bottom-six role and even with a flattened cap likely hurting the role player market, he should be able to land a deal that's a bit higher than the $1MM he made over each of the last three seasons.
F Derek Grant – Very quietly, Grant put up 15 goals this past season, the most in his career and fourth-most among pending UFA centers.  Of course, considering that accounts for more than half of his career total, no one should be expecting a repeat in 2020-21.  But what he can provide at the very least is some strong work at the faceoff dot and an ability to play the penalty kill.  That sounds like a prototypical fourth-line center but Grant's offensive success this season should help him stand out amongst the crowd.
F Nate Thompson – The 36-year-old came over from Montreal as a depth addition but wound up playing a largely regular role after being acquired.  Thompson has played in 13 NHL seasons and has posted a faceoff percentage that's better than 50 in all of them.  That's his calling card and at the very least, it should help him earn an end-of-roster spot with someone for next season with a chance to play his way back into a regular spot on the fourth line.
Other UFAs: F Kurtis Gabriel, D Andy Welinski, D Reece Willcox
Projected Cap Space
Following Niskanen's retirement and the recent re-signing of Justin Braun, the Flyers have a little under $73MM in commitments to 18 players.  With Myers being the only notable player in need of a new deal at this time, Fletcher will have an opportunity to venture into the free agent market or take on a bit of money in a trade to give Philadelphia a boost heading into next season.
Photo courtesy of USA Today Sports Images.