With free agency now just a few days away, teams are preparing for a frenzy of action.  There will be several prominent players set to hit the open market while many teams have key restricted free agents to re-sign.  The Panthers barely have half of their roster under contract for next season so new GM Bill Zito certainly has his work cut out for him over the coming weeks.
Key Restricted Free Agents
F Lucas Wallmark – One of the parts coming back in the Vincent Trocheck deal at the trade deadline, Wallmark didn't get much of an opportunity to make his mark before the pandemic hit as he played in just seven games and only played twice in the postseason.  The 25-year-old is eligible for salary arbitration but considering he has only played in two full NHL seasons thus far, an award likely wouldn't be too high if he makes it to a hearing.  After making the league-minimum $700K in salary this past season, his qualifying offer is only $735K.
D MacKenzie Weegar – Injuries limited the 26-year-old to just 45 games in 2019-20 but he still managed to set career highs in goals (seven) and points (18).  Even more importantly, head coach Joel Quenneville trusted him enough to play him more than 20 minutes a game which is a figure that will play a prominent role if he makes it to arbitration.  After making $1.6MM last season, Weegar should be in line for another million or so in his final trip through restricted free agency although it wouldn't be surprising to see Zito try to buy out a UFA year or two which would push the price tag closer to the $3MM mark.
Other RFAs: G Phillipe Desrosiers, D Emil Djuse, F Dryden Hunt, F Mason Marchment, F Sam Montembeault, F Aleksi Saarela, D Thomas Schemitsch, F Dominic Toninato
Key Unrestricted Free Agents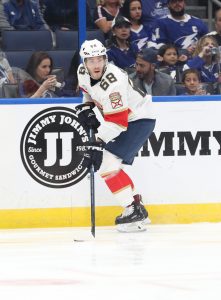 F Mike Hoffman – Goal scorers are always a highly sought after commodity on the open market and Hoffman has been one of the more consistent in that department in recent years.  In five of past six seasons, he has scored between 22 and 29 goals with the outlier being a 36-goal campaign in his first season with the Panthers in 2018-19.  He is particularly adept at scoring with the man advantage and Florida took full advantage of that as 28 of his 65 tallies in his two seasons with them came on the power play.  Hoffman may not quite be a prototypical front-line winger but he is certainly one of the top offensive threats that will be hitting free agency and he should have considerable interest.
F Evgenii Dadonov – Hoffman isn't the only winger of note that's about to hit free agency.  Dadonov has spent a lot of his last three seasons with Florida on their top line, picking up 182 points in 225 games along the way.  While his production dipped this season to only 49 points, he is still one of the top wingers available on the market and his ability to play both wings will certainly bolster his case.  Three years ago, there was certainly some trepidation from teams about signing Dadonov given that he was coming back from the KHL and that he didn't play particularly well in his first stint with the Panthers earlier in his career.  With three productive seasons under his belt, his market should be more robust this time around.
F Erik Haula – In a market that is very weak down the middle, Haula could very well be the best of those available.  While he hasn't come close to replicating the 55-point season he had in Vegas in 2017-18, he has quietly played at a 40-point pace in each of the last two years when he has been in the lineup.  The problem is that the 29-year-old has been hit hard with injuries over that time and has played just 63 times combined in the past two seasons which may be a cause for concern for some teams.  Haula is capable of holding his own as a second-line center in the right situation and may be able to get that opportunity in free agency.
D/W Mark Pysyk – After being a defenseman for most of his career, Pysyk was asked to play on the wing more regularly this past season and held his own all things considered, chipping in with nine goals and nine assists.  Not all of that time was spent on the fourth line either.  Not many players in the league can shift between the two roles which would give the 28-year-old a chance to stand out in a marketplace full of role players.  He almost certainly won't command the $3.5MM salary he made in 2019-20 but his success on the wing will boost his value compared to had he just played on the third defense pairing.
Other UFAs: F Brian Boyle, F Ryan Haggerty, F Joel Lowry, F Danick Martel, F Jack Rodewald, F Paul Thompson
Projected Cap Space
Cap room is an issue for many teams this offseason but that's not the case for Florida as they have more than $21MM in space, per CapFriendly.  However, that's only with a dozen players signed so there are a lot of spots that need to be filled.  Depending on what their internal budget for 2020-21 is going to be set at, the Panthers could potentially be a team to watch for in the coming days in terms of seeking a prominent free agent or leveraging their cap room to add players via trade.
Photo courtesy of USA Today Sports Images.