The Washington Capitals will be without one of their centers for the next while, as Lars Eller has left the bubble in Toronto to return to Washington for the birth of his second child. Eller will be required to quarantine in his hotel room for four days and provide four consecutive negative COVID-19 tests before rejoining the Capitals.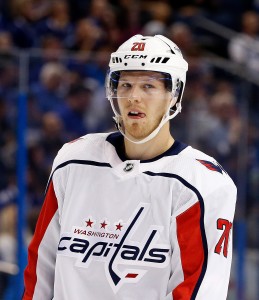 This was expected, but it still doesn't make it any easier for the Capitals who will have to try and win their final two round-robin games without Eller. Washington lost their first game against the Tampa Bay Lightning, in which Eller played more than 17 minutes, recording an assist and five hits.
While the round-robin is obviously not as important as elimination games, securing a top seed would only help the Capitals in their pursuit of another Stanley Cup. For now, they'll have to wait and see how long it takes Eller to return to quarantine before seeing if he'll be available to start round one of the playoffs.
This may not be the only time the team has to deal with something like this, depending on how the playoffs go. Carl Hagelin is also expecting the birth of a child in September.
Photo courtesy of USA Today Sports Images