The Calgary Flames will have several months to think about their collapse in the first round, but the time off will also let them recover from some serious injuries. Flames GM Brad Treliving spoke to reporters today including Kristen Anderson of the Calgary Sun and explained that Matthew Tkachuk, Rasmus Andersson and Sam Bennett were all dealing with major injuries by the end of the postseason.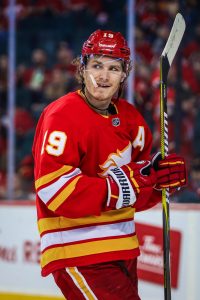 Tkachuk, who sat out the final four games against the Dallas Stars, was dealing with a concussion and was still in the league's protocol when the team was eliminated. The injury was sustained against the Stars and took arguably Calgary's most effective offensive piece out of the lineup for the most important games of the season. Tkachuk, who had 61 points in 69 games this season to lead the Flames, was forced to watch from the press box as they gave up seven consecutive goals in game six.
Andersson meanwhile was playing with a broken foot, an injury that he suffered during the qualification round against the Winnipeg Jets. The 23-year old defenseman still managed to average close to 23 minutes a night in the Dallas series, recording four points in six games and arguably being the Flames most consistent defenseman. After posting 22 points in 70 games this season Andersson appears to be one of the pillars that Calgary can build around moving forward.
Bennett apparently tore a triceps muscle in the qualification round, which certainly answers why he was taking so few faceoffs in the postseason. The gritty centerman took just 29 draws across the six-game series, with linemate Milan Lucic (and career winger) routinely moving into the dot for him instead. Bennett actually led the team in scoring during the postseason, recording five goals and eight points in ten games—despite registering just 12 points in 52 regular season contests.
Photo courtesy of USA Today Sports Images