The Philadelphia Flyers aren't going to quit on Oskar Lindblom. The Masterton Trophy finalist has inked a new three-year contract extension, keeping him in Philadelphia through the 2022-23 season. The deal will carry a $3MM average annual value. Lindblom released a heartfelt message to his fans:
I am very excited to be a part of the Flyers for the next three seasons. The support that the organization, the fans, and the entire NHL has given me has been quite overwhelming. I can't wait to get back skating with the boys and being the professional hockey player I know I can be. I want to thank the Flyers for giving me this opportunity and I look forward to the day I'm back and contributing to the team's success.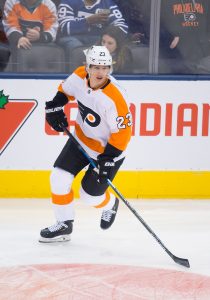 Lindblom, 23, was diagnosed with Ewing's sarcoma in December, a rare form of bone cancer that ended his season prematurely. After inspiring endless support from the Philadelphia community and hockey world at large, he was later able to ring the bell at Abramson Cancer Center, indicating his treatment had completed.
While he will not play this summer for the Flyers, Lindblom's extension means he can get right back to where he left off as an up-and-coming star in the league. The fifth-round pick had already scored 11 goals in the first 30 games this season after putting up 17 in his first full year, creating plenty of hype that he could be a big threat for the Flyers for years to come.
If he does grow into that top-six 30-goal scoring threat, the Flyers will be getting a lot more than just $3MM in value. The deal gives Lindblom some financial security, while also taking him dangerously close to unrestricted free agency. He'll still be a restricted free agent at the end of the deal, but with arbitration rights that could get him to the open market at 27 should he decide to forego a long-term deal.
In terms of what it means for the Flyers next season, a $3MM cap hit won't bankrupt them but does mean they have even less maneuverability going forward. The team now has more than $72.5MM committed to just 15 players and still need to sign names like Nolan Patrick and Robert Hagg, while also finding a capable backup goaltender for young Carter Hart. There is work to be done, but they'll at least know Lindblom is going to be a part of it.
Photo courtesy of USA Today Sports Images