July 1st is typically a high-spending day around the NHL as a free agent signing frenzy means that hundreds of millions in contracts are committed in the span of a few hours.  As a result of this pandemic though, we won't be seeing that big rush on contracts anytime soon.
However, there may still be a spending spree on the horizon for July 1st.  Veteran journalist John Shannon noted on Twitter last week that the NHL and NHLPA currently disagree on the state of signing bonuses that are due as part of contracts that date.  At first glance, that may not seem like a lot but as a result of the vast influx of deals structured with heavy up-front signing bonuses, more than $300MM is at stake.  The NHLPA believes those should be paid as scheduled while the league doesn't see it the same way and believe those payments should be deferred until after the playoffs.
From the NHL's perspective, July 1st typically marks the start of a new league year so it would make sense that they think payments should wait until the postseason concludes; it wouldn't be surprising if they were arguing that it should be the start date of the 2020-21 calendar which may not be until sometime in October.  While a recent agreement was reached to extend expiring contracts, it was solely for the purpose of work visas for players whose deals were set to expire at the end of June.  With a significant dip in revenues in recent months, team owners are almost certainly hoping that they're able to defer these payments until the start of the 2020-21 calendar.
As for the NHLPA, their argument is simple.  The contract states that the signing bonus is payable July 1st so that's when it should be paid.  It's a pretty easy argument to make.  On top of that, escrow for this season may be lower than what it will be for the 2020-21 campaign so players receiving the money next month could receive more net pay than if it's paid out at the start of the next league year.  We're likely not talking about a couple of tenths of a percent either and it's on an amount greater than $300MM as a whole.  That's a pretty significant amount of money overall.
The one team that's really going to be keeping an eye on this is Toronto.  The majority of their salary payable for next season is in the form of signing bonuses: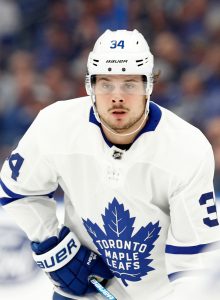 Auston Matthews: $15.2MM
Mitch Marner: $14.3MM
John Tavares: $11.09MM
Jake Muzzin: $7.3MM
Frederik Andersen: $4MM
William Nylander: $3.5MM
Alexander Kerfoot: $1MM
Kasperi Kapanen: $1MM
Andreas Johnsson: $1MM
Justin Holl: $1MM
Total: $59.39MM
There are two things to note here.  First, this amount is actually lower than it was a year ago when it actually eclipsed $70MM.  Second, this doesn't include players on entry-level contracts who receive a signing bonus of up to $92.5K such as defenseman Rasmus Sandin.  That's a lot of money in play for just one team.
While we have seen some announcements recently about the NHL's Return to Play plan, there is still many things that need to be negotiated between the two sides and this is one of them.  It's understandable if their focus is on finalizing health and safety protocols as they proceed towards the final two phases of their plan but with this much money at stake, the fate of the July 1st signing bonuses is going to have to be decided on sooner than later.
Photo courtesy of USA Today Sports Images.