Although we're still more than a month away from the play-in round getting underway, the Blue Jackets made a pair of roster moves today, announcing that they've activated defensemen Seth Jones and Dean Kukan off injured reserve, paving the for them to suit up against Toronto in what will likely be early August.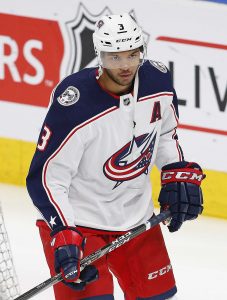 The return of Jones will be huge for their back end.  He led all Columbus players in ice time at 25:17 per game.  While that actually represented a small dip compared to a year ago, that number was still high enough to rank seventh among all blueliners league-wide this season.  He should step back into the number one role and play in all situations; not many teams welcoming back injured players will get a player that has as big of an impact as he does.  He had missed the final 14 games before the pandemic shut down the season due to an ankle injury.
Jones' offensive numbers dipped this season with 30 points in 56 games, his lowest point per game rate in any of his full seasons with the Blue Jackets.  However, he made a big impact at that end a year ago when they made it to the second round and he's certainly capable of doing that again.  At the very least, he'll take some of the pressure off Zach Werenski (who potted a career-best 20 goals this season) in the attacking zone.
After being a depth player the last couple of years, Kukan had stepped into a regular spot on their third pairing before a knee issue caused him to miss the final 29 regular season games.  He wound up suiting up in 33 contests this year, collecting five points (1-4-5) while averaging just shy of 16 minutes per night.  He may not be able to reclaim that regular role after being off for so long but at the very least, he'll represent capable depth if and when injuries arise.
While not mentioned in this announcement, the Blue Jackets are also expected to welcome back forwards Cam Atkinson, Oliver Bjorkstrand, and Nathan Gerbe for their best-of-five series against the Maple Leafs.  Alexandre Texier currently remains on IR along with Josh Anderson and Brandon Dubinsky, neither of whom will be available.
Photo courtesy of USA Today Sports Images.