As things stand, the NHL is planning to have games resume at some point over the coming weeks.  Assuming the regular season continues (something the league remains hopeful of doing), there will be plenty of things to watch for over the stretch run.  Over the weeks ahead, PHR will examine the top stretch run storylines for each team.  We continue our look at the Pacific Division with Anaheim.
After struggling mightily in the second half of last year, the Ducks wound up at the bottom of the league in goals scored and sixth in the division.  Not much has changed this season despite Dallas Eakins being behind the bench.  They're still in the bottom five in goals scored and once again sit sixth in the division.  Despite being out of contention, there still are a few things to watch for them down the stretch.
Scoring 'Race'
The Ducks don't have anyone in the top-100 in NHL scoring (one of the by-products of being a team near the bottom of the league in goals) but they do have one of the more interesting team scoring races to follow.  Their top four point-getters are within four points of each other while the top three are only separated by a single point.  The top of their leaderboard is as follows:
Adam Henrique: 43 points
Rickard Rakell: 42 points
Ryan Getzlaf: 42 points
Jakob Silfverberg: 39 points
It seems unlikely that any of these players will crack the 50-point mark which would make it the second straight season that no one reaches that total which is somewhat rare in recent years.  But at the very least, it's a 'race' that would go down to the wire.
Swan Song For Miller?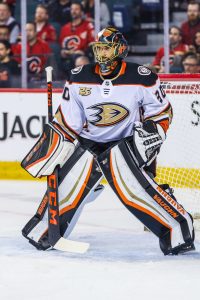 Veteran goaltender Ryan Miller has seemingly been on retirement watch for the last few years.  The Ducks convinced him to stick around last June and gave him a one-year deal that had more performance bonuses ($1.2MM) than base salary ($1.125MM).  He has provided an okay return on that investment as well with a 3.10 GAA and a .907 SV% in 23 appearances.  For context, starter John Gibson's numbers are nearly identical with a 3.00 GAA and a .904 SV%.  Miller's numbers are a step back from a year ago but as far as backups go this season, he has still done enough to earn another contract.
But will he want to suit up for what would be his 18th NHL campaign?  Miller will turn 40 in July and has ties to the Southern California area that would realistically limit his options if Anaheim wasn't going to re-sign him.  At the outbreak of this pandemic, he told James Mirtle of The Athletic (subscription required) that it was too soon to ponder his playing future but that was two months ago.  By the time regular season play resumes (if it does at all), there's a good chance that he'll have decided on whether or not it's time to hang up his skates.  Even if not, his last few games may be the final one of what has been a very strong NHL career.
Youth Movement
The cancellation of the AHL season means that the post-deadline recall restrictions will be lifted.  For a team like the Ducks who have quite a few players with AHL San Diego that will be pushing for roster spots in the near future.  This makes any remaining games effectively like a mini training camp before next season's camp which will make this otherwise largely meaningless stretch a lot more important.
Up front, Troy Terry would have a lot to prove.  He struggled during the first half of the year but was productive in the minors and he'd likely be given a shot.  Maxime Comtois and Isac Lundestrom are also among their better forward prospects and would be worthy of more NHL testing.
On the back end is where things could be interesting.  Jani Hakanpaa and Brendan Guhle have recently been given contract extensions while Josh Mahura held his own this season in his games with Anaheim.  All three would likely be part of any taxi squad and with veterans Michael Del Zotto and Matt Irwin likely heading for unrestricted free agency this offseason, there are spots open for the taking.  A good showing down the stretch could help one or two of those players lock down a full-time position.
There is a youth movement coming in Anaheim.  It started this season and with their postseason aspirations basically gone (barring a 24-team playoff with six teams per division and no crossovers), this would be a good opportunity for the Ducks to see what some more of these younger players can do.
Photo courtesy of USA Today Sports Images.