The Boston Bruins will continue to have their veteran goaltending tandem for at least one more season. The team has signed Jaroslav Halak to a one-year extension, taking him through 2020-21. The new deal carries a $2.25MM salary, actually a slight pay cut from the $2.75MM cap hit he carried this year. Halak will join Tuukka Rask as an unrestricted free agent in the summer of 2021, allowing the Bruins to reconsider their goaltending situation at that time.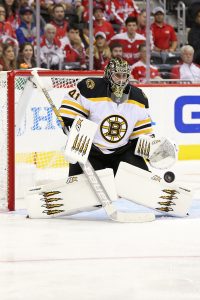 Because the one-year deal is actually a 35+ contract (Halak turns 35 in less than two weeks) he is eligible for performance bonuses. Elliotte Friedman of Sportsnet reports that the deal also includes $1.25MM in potential bonuses, given out if Halak plays in 10 games. That would mean his cap hit is very likely to be $3.5MM, as long as injury doesn't keep him from contributing.
Even though Rask is still considered the starter in Boston, it's hard to overstate just how important Halak has been to the team. In his two seasons with the Bruins he's made 71 appearances, posting a 40-17-10 record. His .921 save percentage during that time is among the league leaders, ranking sixth among goaltenders with at least 40 starts. That kind of production—especially when combined with Rask, who is eighth on that list—is part of what makes Boston so dangerous. On any given night whoever is in net can steal the show, while their powerful top-six and strong defense corps hold onto the puck for two-thirds of the game.
Halak has seemingly been happy to live outside of the spotlight throughout his career, despite being an excellent NHL goaltender for more than a decade. Perhaps remembered best for the outstanding playoff run he made with the Montreal Canadiens in 2010, he has posted strong numbers in almost every single one of his 14 seasons in the league.