The second round of voting has closed, and the Hobey Baker Hat Trick Finalists have been announced. 78 players were nominated for the award this year, and a fan vote was added to the opinions of NCAA head coaches to determine the final ten names, which has now been reduced to just three.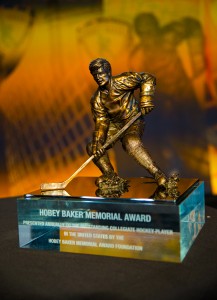 The trophy is given to the top NCAA player in the country and has an impressive line of winners over the past few years. In 2013-14, Johnny Gaudreau took home the award as a junior for Boston College, followed by Jack Eichel in his only year for Boston University in 2015-16. Jimmy Vesey, Will Butcher and Adam Gaudette don't bring quite the same impact but are still NHL regulars after winning between 2016-18.
Last year's winner was UMass defenseman Cale Makar, who has gone on to be one of the most impressive rookies in the NHL with the Colorado Avalanche. Makar leaves big shoes to fill by this year's finalists.
The award also has several top NHL alumni in its small fraternity, including Neal Broten, Tom Kurvers, Paul Kariya, Chris Drury, Ryan Miller and Brendan Morrison. With that group behind them, this year's winner is certainly not someone to take lightly.
The finalists are as follows:
Jordan Kawaguchi – University of North Dakota (undrafted)
Kawaguchi, 22, was a phenomenal offensive player for UND this season, recording 45 points in 33 games. That total put him second in the country behind only Jack Dugan of Providence College—who is noticeably absent from this group—and ahead of some of the more experienced senior forwards around the NCAA. Undrafted out of the BCHL despite some eye-popping offensive numbers, the 5'9″ forward will be returning for a fourth year at North Dakota before starting his professional career.
Scott Perunovich – University of Minnesota-Duluth (agreed to terms, St. Louis Blues)
Perunovich, 21, ended the season with the second-most points among any defenseman in the country, scoring 40 in just 34 games. Through three seasons at UMD Perunovich has absolutely dominated the college landscape, driving play every time he touches the ice. He has already decided to leave before his senior season, agreeing to two different contracts with the Blues–one that starts if the 2019-20 season ever resumes, and one that will start in 2020-21.
Jeremy Swayman – University of Maine (signed, Boston Bruins)
Swayman, 21, is perhaps the surprising finalist only because as a goaltender he doesn't get the opportunity to compare offensive numbers to the other candidates. Well, perhaps we should be looking a little closer at his jaw-dropping numbers in net after he posted a .939 save percentage in 34 starts for Maine. Swayman has been an excellent goaltender since entering the program in 2017, but after dropping his goals-against average to just 2.07 this season he has taken a huge step forward. Even as a fourth-round pick, he will enter the Bruins' system as one of the most interesting goaltending prospects to keep an eye on.
Photo courtesy of USA Today Sports Images