Barring a late-season run, the Montreal Canadiens look destined to finish outside the playoff picture for the third year in a row. That playoff drought coincides with Claude Julien's current tenure as head coach, at least in terms of full seasons under the veteran bench boss—he went 16-7-1 down the stretch after Michel Therrien was fired in 2017 to get the Canadiens in, but lost in the first round to the New York Rangers.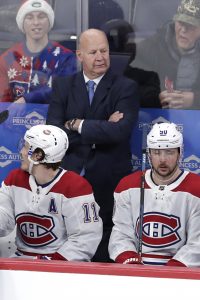 Despite the fact that the Canadiens have taken a drastic step back from their 96-point season a year ago and are currently sitting with their fourth-worst winning percentage since 2003, changes don't appear to be coming. In an interview with RDS today, general manager Marc Bergevin explained that Julien will still be the team's coach next season.
The veteran coach is in his second stint behind the bench of the Canadiens, but now has just a .529 winning percentage in those games. During that time his club has played in just 17 playoff contests, winning just a single round—back in 2004.
Missing the playoffs for three straight seasons quite often gets a coach fired, but questions about the Canadiens don't end at Julien. Tomas Tatar has been the team's most consistent offensive player this season but is under contract for just one more year. Shea Weber's health was a concern once again, and top prospects like Jesperi Kotkaniemi and Ryan Poehling didn't have the development years many expected. There is obviously plenty of hope for the future—especially when you look at the way Nick Suzuki has transitioned to the NHL—but there will be a lot of pressure this offseason for the group to see appreciable improvements.
Even if Julien and Bergevin come back to start the 2020-21 season, it doesn't mean their seats won't be incredibly hot.
Photo courtesy of USA Today Sports Images