With the trade deadline quickly approaching, we continue to profile players that have a good chance to be dealt by February 24th.
Last season, Kings winger Tyler Toffoli was drawing a fair bit of interest around the league but Los Angeles ultimately balked on selling low and held onto him for this season.  They've been somewhat rewarded for their patience as he has bounced back somewhat but they still find themselves well out of the playoff picture.  Accordingly, it seems quite likely that Toffoli will be on the move over the next few weeks.
Contract
Toffoli is in the final season of a three-year, $13.8MM contract signed back in 2017.  The deal was slightly back-loaded as his $4.8MM salary is a little higher than his $4.6MM cap hit.  There is no trade protection in the contract and he is eligible to become an unrestricted free agent in July.
2019-20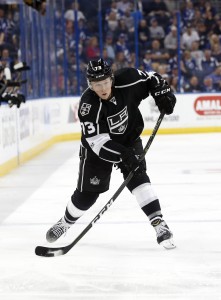 There haven't been many bright spots in Los Angeles this season as the Kings are once again mired at the bottom of the standings in the Western Conference.  However, the 27-year-old has bounced back from a rough 2018-19 campaign and would have to be considered one of the few positives they've had this year.  He sits third on the team in points with 30 and has already surpassed his goal total from last season despite playing in 27 fewer games and averaging a lower amount of ice time.  While Toffoli hasn't rebounded to the level of being a top liner like he was in his breakout 2015-16 campaign, he has done enough to restore some trade value to the point where teams will look at him as a top-six upgrade.  That should also bode well for his free agency prospects.
Season Stats
55 GP, 14 goals, 16 assists, 30 points, -7 rating, 16 PIMS, 149 shots, 16:27 TOI, 57.5 CF%
Potential Suitors
While Rangers winger Chris Kreider is the top potential prize of the deadline, Toffoli could very well be the Plan B option for quite a few teams.  That should bode well for the Kings as there will certainly be enough leverage to garner a fairly strong return.
In the East, the Bruins have been linked to Toffoli going back to last season and he's certainly on their radar again.  Boston has been looking to add secondary scoring for a while and he would certainly help round out their attack and take some pressure off their number one line but they will need some help to make him fit on their salary cap.  The Penguins are known to be looking for a replacement for the injured Jake Guentzel and with him on LTIR, they have the cap room to bring him in.  The Flyers are one of the deeper offensive teams but they're a team that is known to have some interest but making the money work will be difficult.  The Islanders should be sniffing around any sort of potential offensive upgrade while the Blue Jackets have played their way into the playoff picture despite a mediocre attack.  GM Jarmo Kekalainen may be hesitant to enter the rental market after what transpired last year but Toffoli would give them a nice boost offensively.
Out West, the Flames have been shopping for a replacement for Michael Frolik and Toffoli would represent an offensive upgrade at a similar price tag.  The Stars have fizzled offensively and could certainly use the upgrade if they're willing to go into LTIR and all but ensure that they'll be facing a bonus overage penalty next season.  Adding Taylor Hall and Phil Kessel hasn't done much to boost the scoring punch for the Coyotes so more help would be welcome but they'd basically need to match money which could make things difficult.  The Avalanche don't really need the offensive boost – they're in the top-five in goals scored – but they have a short-term window to work with before some of their players need new, pricier contracts so the short-term commitment to someone like Toffoli may be enticing to them.
Likelihood Of A Trade
A trade has seemed inevitable going all the way back to last season.  While Toffoli is young enough to still be part of the future core for the Kings, it doesn't appear as if there's interest in that happening.  He has been in trade rumors for a couple of years now and within the next couple of weeks, one of those will come to fruition.
Photo courtesy of USA Today Sports Images.