With the trade deadline quickly approaching, we continue to profile players that have a good chance to be dealt by February 24th.
From the moment he signed in Ottawa at the beginning of free agency in July, the countdown towards Ron Hainsey's next trade has been underway.  The veteran blueliner played an important role in the postseason for Toronto the last two years but with the Senators well out of the playoff picture already with an expiring contract, there isn't much of a case to keep him around for the stretch run which makes the question of a trade a matter of when and not if.
Contract
Hainsey is on a one-year, $3.5MM contract and will be eligible for unrestricted free agency once again in July.  The deal contains a 10-team no-trade clause.
2019-20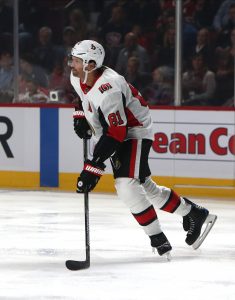 The 38-year-old was brought in to be a veteran mentor for a young Ottawa core while taking some pressure off a relatively untested back end.  He has done exactly that.  Hainsey is serving as an alternate captain already and has moved back and forth on the top two pairings and is once again logging more than 20 minutes a night for the ninth straight season.  He also has spent time playing on both the left and right sides which has only boosted his value to the Sens.  Generally speaking, he hasn't done anything to get himself traded (it wouldn't be shocking if Senators GM Pierre Dorion has already kicked the tires on what it might cost for an extension) but with Ottawa well out of the playoffs, there isn't a compelling case to keep him around.
Season Stats
46 GP, 1 goal, 10 assists, 11 points, +6 rating, 8 PIMS, 32 shots, 20:11 TOI, 43.7 CF%
Potential Suitors
While Hainsey has shown that he can handle minutes in the top four, most teams will probably view him as a third pairing option.  Veteran defenders is something that practically every contender looks to add to shore up their depth but here are a few teams that stand out as potentially strong fits.
In the East, Hainsey's former employer in Toronto makes some sense if they can make the finances work (and that could prove to be too difficult).  But the Maple Leafs could certainly stand to add someone who has some familiarity with the roster already and a proven ability to play with their top blueliner in Morgan Rielly.  Another of his former teams in Carolina could make sense.  The Hurricanes are believed to be looking for extra depth in the wake of the Dougie Hamilton injury and while Hainsey isn't a natural righty, he has played that side enough in recent years to be a legitimate option on that side and they have enough cap room to fit him in.  Washington is going to be shopping at the lower end of the market for depth but Hainsey would give them a nice upgrade on their third pairing.  They would need Ottawa to retain some salary though.
Out West, Winnipeg has had a tough season when it comes to their back end with their key departures and several injuries among those that are there.  Hainsey could potentially step into a spot in their top four if they're willing to go the rental route.  Calgary could be forced to pivot to defense depending on what happens with Mark Giordano's injury from Tuesday night and they freed up enough money to add him with their move last month.  Edmonton's preference at this point is likely depth down the middle but if they can't get that, they'll likely pivot to strengthening their back end where Hainsey would give their third pairing a boost.
Likelihood Of A Trade
All things considered, the likelihood is quite high that Hainsey will be on the move here.  Unless he's willing to sign a very team-friendly extension that is worth more than whatever mid-tier draft pick or prospect they'd get in return, the smart play for Ottawa is to move him out and if they're so inclined, try to bring him back in free agency.
Photo courtesy of USA Today Sports Images.