The New Jersey Devils are out of the race at this point in the season, so contending teams (and the fans of said teams) have undoubtedly been picking through their roster to find anything of use. One of the names that sticks out is Sami Vatanen, given his history of success, position and expiring contract. It's no surprise then when Craig Custance of The Athletic (subscription required) includes Vatanen on his deadline "Big Board" and writes that six or seven teams are "in" on the New Jersey defenseman.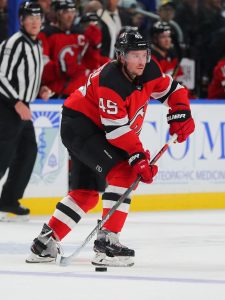 Vatanen, 28, is a coveted right-handed defenseman who is scheduled to become an unrestricted free agent at the end of the year and brings plenty of appealing attributes. Not only has he shown throughout his career that he can help on the powerplay—10 of his 23 points this season have come with the man advantage—but he is also trusted enough in his own end to be used on the penalty kill.
While not an overbearing physical presence, Vatanen is willing to throw his weight around when he needs to and has now logged more than 21 minutes a night in six consecutive seasons. Though he hasn't been there since 2018, the playoffs are also not foreign territory; Vatanen has suited up 44 times in the postseason (mostly with the Anaheim Ducks), recording 23 points in the process.
Six or seven teams makes for quite the bidding war, but it's not clear exactly what Vatanen will be able to bring back for the Devils at this point. There is much debate over how the rental market will be dealt with this season, given the ever-increasing importance placed on draft and development. As it sits he may be the best rental defenseman available, but if there is no chance of an extension on the four-year, $19.5MM deal he is about to finish, teams may be hesitant to give up a top tier asset. We profiled Vatanen's situation earlier this month and looked at some of the potential suitors that might be after him.
Photo courtesy of USA Today Sports Images