The Canucks are currently in a battle for top spot in the Pacific Division and GM Jim Benning has made a move to bolster their attack. They have acquired winger Tyler Toffoli from Los Angeles in exchange for winger Tim Schaller, prospect Tyler Madden, a 2020 second-round pick, and a 2022 fourth-round pick that is contingent on Toffoli re-signing with Vancouver.  Both teams have confirmed the trade and there is no salary retention on anyone.
The 27-year-old has already matched his point total from last season following a hat trick against Colorado in the Stadium Series game on Saturday.  Through 58 games this season, he has 18 goals and 16 assists; his 34 points ranked third on the Kings.
Vancouver has very quietly put together a top-ten attack this season and have a very balanced attack.  Toffoli's addition will give the Canucks seven forwards with at least 16 goals and not many other teams can contend with that type of depth.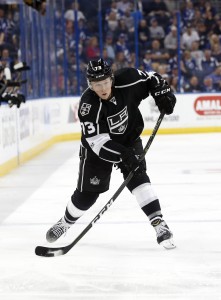 While that certainly bodes well for Vancouver, it may not be the best thing for Toffoli's free agent fortunes.  He's eligible for unrestricted free agency at the end of the season and will likely be seeking a contract that's close to his current $4.6MM AAV.  If he winds up spending time on the third line for the Canucks, that has the potential to hurt his value on the open market.
As for Schaller, his inclusion in the deal is solely to help make the money work.  Two years ago, he had a 22-point season with Boston but has failed to reach that mark over his two years in Vancouver combined.  Through 51 games this season, he has five goals and one assist which isn't a great return on a $1.9MM AAV.  He's slated to become an unrestricted free agent this summer.
Even with Schaller's inclusion, the money isn't close enough to work under Vancouver's salary cap.  Accordingly, CapFriendly notes (Twitter link) that wingers Josh Leivo and Tyler Motte plus center Tyler Graovac have all been transferred to LTIR which frees up enough room for now although there could be complications down the road when any of them are ready to be activated.  Micheal Ferland is also on LTIR but the Canucks announced (via Twitter) that he has been shut down for the rest of the season due to recurring concussion-like symptoms.  They also revealed that Brock Boeser will miss at least three weeks due to a rib cartilage fracture which likely was part of the impetus for this move.
Madden was a third-round pick of Vancouver (68th overall) back in 2018 but is quickly outperforming his draft stock.  He leads Northeastern in scoring in his sophomore season with 19 goals and 18 assists; his 37 points put him fourth in NCAA scoring.  However, he broke his finger over the weekend that will keep him out for the next month or so.  Los Angeles will have two years after this one to sign him and while he may still be a year or two away from turning pro, he is a nice addition to a Kings prospect pool that is quickly being stocked up.
With Toffoli now gone, the focus in Los Angeles will certainly shift towards defenseman Alec Martinez.  The 32-year-old is believed to be one of the more sought-after defenders that could move by next week's trade deadline as he carries a $4MM AAV and unlike many of the players who will be moved between now and then, he's not a rental player as he is signed through 2020-21.
Photo courtesy of USA Today Sports Images.
TSN's Darren Dreger was the first to report that Toffoli had been dealt to Vancouver.