With the trade deadline quickly approaching, we continue to profile players in the weeks ahead that have a good chance to be dealt by February 24th.
There was plenty of anticipation when Ilya Kovalchuk announced he wanted to return to the NHL after five straight years in the KHL. The former star wanted another crack at a Stanley Cup title, but made the mistake of signing a contract with the Los Angeles Kings (a three-year, $18.75MM deal), who were hoping for one more title run. Between the team's struggles and Kovalchuk's inability to fit into the Kings' lineup, he bottomed out this year, even being asked to sit out before finally being placed on unconditional waivers. However, the Montreal Canadiens rescued him where he has thrived eight short games.
Having revived his career with the Canadiens in just a short amount of time, Kovalchuk suddenly could become quite the trade chip who is quite inexpensive as he is under a minimum contract and might be a big win-win for general manager Marc Bergevin.
Contract
Once a free-agent, Kovalchuk was free to sign with anyone and anywhere, but his main goal was to sign with an NHL team and the Montreal Canadiens offered him that chance, signing him to a one-year, two-way contract worth $700K.
2019-20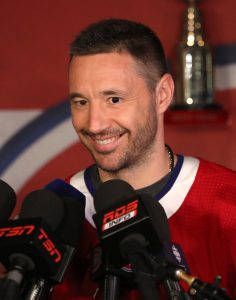 Kovalchuk's numbers may look adequate when looking at his numbers with the Kings, but the veteran didn't fit in with new head coach Todd McLellan and on Nov. 12, was informed that he would not be in the lineup for the "foreseeable future." The veteran averaged just 15 minutes on the ice and often found himself on the fourth line when with the Kings. He was eventually placed on unconditional waivers, while Los Angeles is still responsible for the final year of his deal next season at $6.25MM.
The Montreal Canadiens, however, took a chance, signing the 36-year-old to a one-year deal to revive his career. And that he's done, as he has four goals and eight points in eight games with the Canadiens and looking like the player that many expected when he signed with the Kings back in 2018.
Season Stats
TOTAL: 25 GP, 7 goals, 10 assists, 17 points, -7 rating, 12 PIMs, 57 shots, 16:45 ATOI, 51.5 CF%
L.A.: 17 GP, 3 goals, 6 assists, 9 points, -10 rating, 12 PIMS, 35 shots, 15:25 ATOI, 49.3 CF%
MON: 8 GP, 4 goals, 4 assists, 8 points, +3 rating, 0 PIMS, 22 shots, 19:36 ATOI, 55.2 CF%
Potential Suitors
The key reason that Kovalchuk might provide significant value isn't just for his offensive prowess, but because he comes with a minimum salary, which could mean that top playoff teams with little to no cap room should easily be able to afford the 36-year-old.
That could leave several thoughts on where he might go, but one thought could be a trade to the New York Islanders. The Islanders have solid goaltending and a quality defense, but the rank 21st in the league in scoring and 19th in the league in power-play efficiency. Kovalchuk, who is well-known by general manager Lou Lamoriello (he signed him to the infamous 15-year, $100MM contract), could boost both those numbers as he could fit into the team's lineup perfectly and even play a role on the team's second power-play unit. The Boston Bruins could also be looking to add a cheap option to their top six, although the team does have some cap room to work with if needed.
In the west, teams such as Dallas and Edmonton could use Kovalchuk's skills. Dallas could use another impact forward for their middle nine, while Edmonton is desperately in need of forwards and have little cap room to work with, making Kovalchuk an obvious option.
Likelihood Of A Trade
Much of whether Kovalchuk will be traded at the trade deadline will be determined by what Bergevin decides to do with him. The Canadiens seem to be a better team with him in the lineup and if Bergevin can convince Kovalchuk to sign an extension before the trade deadline, then Montreal might be better off holding onto him. However, if the team cannot find a way to lock him up or if other teams are offering significant assets that Bergevin can't pass up, then the team will likely be better off trading him away and just remembering they signed him for almost nothing. Because the worst thing that could happen to Montreal is not trading him and then watching him leave at the end of the season.
Photo courtesy of USA Today Sports Images.