With the trade deadline quickly approaching, we continue to profile players in the weeks ahead that have a good chance to be dealt by February 24th.
The New York Rangers find themselves in quite the dilemma as one of their top players for the last several years, Chris Kreider, finds himself ready to hit unrestricted free agency on July 1, and the team has to decide what to do with him. As of now, most indications are that the Rangers and Kreider haven't gotten very far in extension talks and the general belief is that New York intends to trade him at the trade deadline.
With the team in a rebuilding phase, it makes sense to move Kreider, but the team has made some progress in the last year. The team is just 11 points out of a playoff spot and a strong second-half could allow them to catapult them into the playoffs. However, the team is hardly ready to compete for a Stanley Cup and at age 28, signing Kreider to a seven or eight-year deal may also not be the greatest idea either. Despite the sentimental side of things, the team might be better off getting what they can.
Contract
Kreider is in the final year of a four-year, $18.5MM  contract that he signed back in 2016. He has a an AAV of $4.625MM and will hit unrestricted free agency in July. He does have a modified no-trade clause in which he has an 11-team no-trade list.
2019-20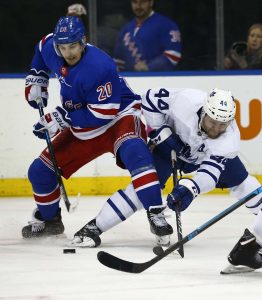 Kreider has been a consistent goal scorer in New York for the past seven years and the 28-year-old has been no different this season. After a 28-goal campaign in 2018-19, Kreider is well on his way of duplicating that number once again. He currently has 17 goals and 32 points and should be in line for similar numbers from last year, if not better. However, he's been even better over the past 20 games as Kreider has 11 goals in that span, along with 19 points, making his stock continue to rise as he has been playing close to a point-per-game player. He has been playing so well that many wonder if the Rangers would be losing too key of a player.
Season Stats
48 GP, 17 goals, 15 assists, 32 points, +1 rating, 58 PIMS, 117 shots, 17:43 ATOI, 47.4 CF%
Potential Suitors
Many teams will be looking to acquire a speedy power forward, who can score. The earliest suitor for Kreider goes back a ways as there were rumors that the Colorado Avalanche might be interested to bring Kreider in for a Stanley Cup run. However, that interest has supposedly slipped. The Montreal Canadiens have also expressed interest, but there are rumors that Kreider put all Canadian teams on his no-trade list.
In the East, the Rangers have a history making moves with the Boston Bruins at the trade deadline and this year is likely no different. Despite a dominant first line, the Bruins are still struggling to get quality offense from their second line and could use a veteran goal scorer who could step in and help anchor a group of forwards, including Jake Debrusk and Charlie Coyle. The team does have almost all of its picks, including its first-round picks in the next three drafts, so the have some key assets in which to acquire Kreider. The Bruins also have a bunch of young forwards that are NHL ready and could be another trade chip to use, including Anders Bjork, Danton Heinen as well as several forwards currently playing in Providence of the AHL.
Out West, there could be several teams interested in Kreider, but its rumored that the Dallas Stars might be looking for some goal scoring. The team is currently ranked 27th in goals scored and also acquired Mats Zuccarello from the Rangers last season. Despite being tight against the cap, Dallas does have the luxury of placing Martin Hanzal on LTIR, which could open up the needed space to bring in Kreider. The biggest concern, however, is that the team might be hesitant to move its first-round pick after having already traded their second-round (to Vegas for Marc Methot) and a third-rounder (to the Rangers for Zuccarello), which could leave without any picks until the fourth round at the draft. Even among prospects, Dallas might hesitate to trade their top prospects, which could make a match difficult, but not impossible.
Likelihood Of A Trade
With a key game-winning goal against the rival New York Islanders nine days ago, many have felt that moving Kreider would be a mistake as he is a major part to the team. However, the Rangers expect to have some cap issues in the coming seasons as the team has to sign several key players in the next couple of years to long-term deals, including Anthony DeAngelo, Ryan Strome, Brendan Lemieux, Alexandar Georgiev for next year, while others like Kaapo Kakko and Filip Chytil are both likely to expect big deals down the road. Throw in the $6.08MM cap hit that the team will get from Kevin Shattenkirk's buyout next year, and there doesn't look to be much money left available for Kreider, who is likely looking for a big payday.
Photo courtesy of USA Today Sports Images.