The Toronto Maple Leafs have locked up one of their depth defenders for another year. Martin Marincin has signed a one-year contract extension worth $700K. The defenseman was scheduled to become an unrestricted free agent at the end of the season.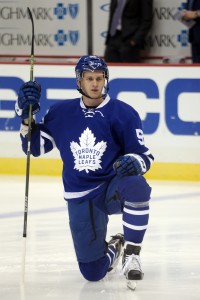 Marincin, 27, has become the annual injury replacement for the Maple Leafs, coming up from the AHL whenever needed. That has meant 13 games with the team this season thanks to a broken foot for Jake Muzzin, where he has averaged a little over 14 minutes a night.
There is little chance that Marincin becomes an impact—or even a full-time—player for the Maple Leafs, but when you have almost an entire defense corps set to hit free agency someone has to be retained to fill out the depth chart. Marincin joins Justin Holl as two that have been extended in-season, with big questions still surrounding the future of Muzzin and Tyson Barrie, both unrestricted in July.
When you spend so much money on your forward group you need minimum salaried players, meaning this likely isn't the last low-cost deal the Maple Leafs will sign. At the very worst, Marincin will spend the season in the AHL where he has played well for the Toronto Marlies—notably under Sheldon Keefe, who is now in charge of the NHL club.
Photo courtesy of USA Today Sports Images