Another NHL team has taken a chance on Ilya Kovalchuk. The Montreal Canadiens announced a contract for the enigmatic Russian sniper, signing Kovalchuk to a one-year, two-way contract worth $700K at the NHL level. The deal is worth the minimum at both the NHL and AHL level, limiting the risk involved with signing the former Los Angeles King.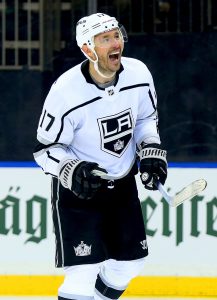 Kovalchuk, 36, comes to the Canadiens after agreeing to a mutual contract termination with the Kings that saw him walk away from several million dollars. Getting that kind of money again was never going to be in the cards, but by agreeing to a minimum-salary contract Kovalchuk at least signals that he's motivated by the hockey opportunity that is available with the Canadiens.
That opportunity is immediate after Montreal announced that Brendan Gallagher is out indefinitely with a concussion. While the two play very different games, Kovalchuk can perhaps help to bring some of the goal scoring the team lost when Gallagher went out. There is reason to believe that even at an advanced age, the former KHL star can still put the puck in the net.
While he never fit with the Kings, clashing with coaches and failing to bring the production expected of a player earning $6.25MM per season, Kovalchuk still does have a wicked shot and nose for the net. In 64 games last season he recorded 16 goals and 34 points, and had nine points in his first 17 games this season before being removed from the lineup in November. That huge gap in playing time will be a difficult one to overcome, though he did stay with the Kings and continued practicing for a month before the termination came to pass.
The simple fact for Montreal right now is that they need to do something to try and get back on track. After sitting in a playoff spot through much of the early part of the season, the Canadiens are now sixth in the Atlantic Division and have lost their last four games. An 18-17-6 record isn't going to cut it and if they want any sniff of the postseason they'll have to start scoring more goals.
At this point there is very little risk for the Canadiens, but Marc Bergevin explained the situation from Kovalchuk's point of view very succinctly at his press conference today (via Eric Engels of Sportsnet):
He has to buy in. It's his last chance.