With the collegiate hockey season entering the home stretch, voting for this year's Hobey Baker Memorial Award has opened with 78 players nominated for the award. The trophy is given to the top NCAA player in the country, and has an impressive line of winners over the past few years. In 2014, Johnny Gaudreau took home the award as a junior for Boston College, followed by Jack Eichel in his only year for Boston University in 2015. Jimmy Vesey, Will Butcher and Adam Gaudette don't bring quite the same impact, but are still NHL regulars after winning from 2016-18.
Last year's winner was University of Massachusetts defenseman Cale Makar, who has gone on to be one of the most impressive rookies in the NHL this season with the Colorado Avalanche. Makar leaves big shoes to fill by this year's nominees.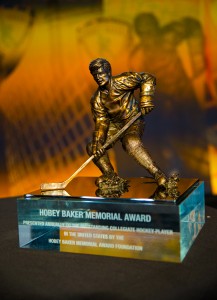 The award also has several top NHL alumni in its small fraternity, including Neal Broten, Tom Kurvers, Paul Kariya, Chris Drury, Ryan Miller and Brendan Morrison. With that group behind them, this year's winner is certainly not someone to take lightly.
The fan vote will be added to the opinions of NCAA head coaches to come up with a 10-man finalist group, which will then have another fan vote and go through a selection committee. The nominees are as follows:
Dryden McKay – Minnesota State University-Mankato
Kevin Conley – University of Nebraska-Omaha
Brinson Pasichnuk – Arizona State University
Tanner Laczynski – Ohio State University
Taylor Ward – University of Nebraska-Omaha
Nick Hutchison – Canisius College
Matthew Galajda – Cornell University
Trenton Bliss – Michigan Technological University
David Farrance – Boston University
Cole Caufield – University of Wisconsin-Madison
Philip Beaulieu – Northern Michigan University
Max Newton – University of Alaska-Fairbanks
Spencer Knight – Boston College
Morgan Barron – Cornell University
Tyler Madden – Northeastern University
Jack Dugan – Providence College
Yanni Kaldis – Cornell University
Jakov Novak – Bentley University
Nick Halloran – Colorado College
Paul Washe – Western Michigan University
James Sanchez – Arizona State University
Jack Ahcan – St. Cloud State University
Patrick Khodorenko – Michigan State University
Cole Hults – Pennsylvania State University
Casey Dornbach – Harvard University
Brian Wilson – Niagara University
Jack Drury – Harvard University
Jason Cotton – Sacred Heart University
Emilio Pettersen – University of Denver
Zach Risteau – St. Lawrence University
Stefanos Lekkas – University of Vermont
Max Gildon – University of New Hampshire
Wyatt Bongiovanni – Quinnipiac University
Jordan Kawaguchi – University of North Dakota
Hugh McGing – Western Michigan University
Devin Brosseau – Clarkson University
Griffin Loughran – Northern Michigan University
Alec Rauhauser – Bowling Green State University
Vincent de May – Northern Michigan University
Haralds Egle – Clarkson University
Scott Perunovich – University of Minnesota-Duluth
David Cotton – Boston College
Matt Jurusik – Michigan Technological University
Zackarias Skog – American International College
John Leonard – University of Massachusetts-Amherst
Drew O'Connor – Dartmouth College
Mike Lee – Sacred Heart University
Frank Marotte – Clarkson University
Nate Kallen – Ferris State University
Darion Hanson – Union College
Patrick Harper – Boston University
Mareks Mitens – Lake Superior State University
Odeen Tufto – Quinnipiac University
Matt Stief – Canisius College
Max Humitz – Lake Superior State University
Peyton Jones – Pennsylvania State University
Linus Weissbach – University of Wisconsin-Madison
Justin Kapelmaster – Robert Morris University
Cale Morris – University of Notre Dame
Michael Wilson – United States Military Academy (Army)
Gordie Green – Miami University
Hunter Shepard – University of Minnesota-Duluth
Will Reilly – Rensselaer Polytechnic Institutue
Marc Michaelis – Minnesota State University-Mankato
Brennan Kapcheck – American International College
Chris Wilkie – Colorado College
Tyce Thompson – Providence College
Matt Hoover – Canisius College
Johnny Walker – Arizona State University
Tyler Wall – University of Massachusetts-Lowell
Nick Abruzzese – Harvard University
Mitchell Chaffee – University of Massachusetts-Amherst
Derek Daschke – Miami University
Blake Christensen – American International College
Ian Mitchell – University of Denver
Bobby McMann – Colgate University
Wyatt Kalynuk – University of Wisconsin-Madison
Tommy Nappier – Ohio State University