The Buffalo Sabres have had an overload of NHL-caliber defensemen for the entire season, and now one of their veterans wants out. Darren Dreger of TSN is reporting that Zach Bogosian—who is expected to be a healthy scratch tonight—has requested a trade.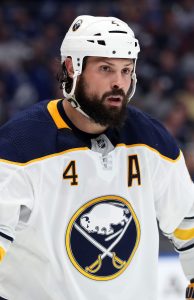 Bogosian, 29, is in the final season of the seven-year, $36MM deal he signed with the Winnipeg Jets in 2013 and carries a cap hit of more than $5.14MM. That number makes him a very difficult asset to move, given how his career has gone the last several years.
Originally selected third overall by the Atlanta Thrashers in 2008, Bogosian seemed to be the whole package. A 6'3″ right-handed defenseman that could skate, move the puck and was willing to engage physically, he entered the league as a teenager and immediately made an impact. When the Thrashers closed their doors and went to Winnipeg, he already had 199 NHL games under his belt and was logging nearly 23 minutes a night.
After that however, health issues seemed to crop up every year. Bogosian hasn't played more than 65 games in a single season since arriving in Winnipeg in 2011, only even breaking 60 on four occasions. This year he has suited up just ten times for the Sabres and even when he does get into the lineup, he's averaged the fewest minutes since his rookie season.
For a player like Bogosian, requesting a trade is the only chance he has at securing a market for himself next summer. If the Sabres aren't going to play him on a regular basis, he might as well try to go to another team that will. Buffalo isn't going to get any real assets for him at this point though, and may even have to eat salary to accomplish it.
Photo courtesy of USA Today Sports Images