While the Colorado Avalanche are usually the first name mentioned when it comes to a potential Taylor Hall trade (and for good reason), there's another Western Conference team trying to acquire the pending free agent. Darren Dreger of TSN reports that the Arizona Coyotes are "definitely interested" in the New Jersey Devils star forward and are "not concerned" about the potential high asking price.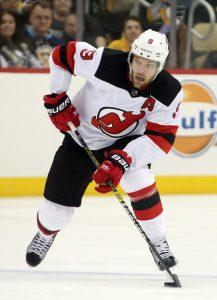 That asking price may be flexible however, as in the same segment Bob McKenzie explained that the Devils aren't necessarily looking for the first-round pick, top prospect and young roster player package that is usually discussed when talking about high-end rentals. Instead, they "haven't set any parameters" and will just ask for the best offer from any interested teams, regardless of what exactly that includes.
Being open to anything like that will certainly perk up the ears of general managers around the league that might not necessarily have the same prospect capital as teams like the Avalanche, who are still one of the most logical destinations for Hall because of their current situation. If the Devils are willing to take some salary back in a trade it could basically make any contender an option, as there aren't many teams that wouldn't improve by adding Hall.
That said, McKenzie expressed some uncertainty over when this move would even happen. That's the same implication that Elliotte Friedman of Sportsnet gave when he wrote earlier this week that though the Hall talks have intensified it "doesn't mean it's going to happen at this time." Even if it does look more and more like Hall will be moved, there's no clear playbook to use here. The Devils can't miss on whatever package they get for him, given the struggles they've had this season.
Photo courtesy of USA Today Sports Images