3:07 PM — The Athletic's Corey Masisak reports (Twitter link) that Hall refused to talk about potential trade talk, saying that he wants Shero and Ferris to handle questions about that. Hall, however, denied that he has asked to be traded.
12:02 PM — Devils winger Taylor Hall is the top player in the 2020 class of unrestricted free agents and with contract extension talks not yielding much progress, there had been plenty of speculation as to whether or not GM Ray Shero would be open to trading him at some point this season.  It appears that he's open to the idea at the very least as Pierre LeBrun of TSN and The Athletic reports (Twitter link) that New Jersey is now listening to offers for the 2018 Hart Trophy winner.
Things have not gone according to plan for New Jersey or Hall this season.  The Devils are floundering in the standings as they sit at the bottom of the Metropolitan Division and only Detroit has fewer points than them in the league.  That makes a potential postseason push (where it could be justifiable to consider keeping him even without an extension in place) quite unlikely.  As for Hall, while he leads the team in points with 21, he currently has just four goals on the season so a change of scenery could certainly help his market value if he can get back on track offensively.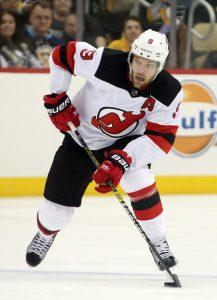 There's no denying that Hall could help any number of contenders but the fact that New Jersey is open to the idea of moving him now could also open up some interest from some teams that are on the playoff bubble currently.  An addition like that could certainly push one of those squads into a postseason position.
If a trade was to get done in the near future, it wouldn't automatically mean that an extension would be forthcoming as has been the case with other star rentals that have moved in recent years.  The acquiring team could get an opportunity to see how Hall adapts and whether or not he's someone that can fit in with their long-term planning.  If not, then he'd become a rental candidate closer to the February 24th trade deadline.
It's also worth noting that Hall is represented by Darren Ferris who has a reputation of encouraging his players to wait things out and get to the open market.  To that end, LeBrun speculates that any sort of trade package would likely have to have some conditional assets attached to it that would be transferred if and when a new deal with the acquiring team was struck.
Hall is currently carrying a $6MM salary and cap hit but that amount will certainly be going up by a significant margin on his next deal.  Heading into the year, it was thought by some that he could come close to Artemi Panarin's $11.643MM AAV, a record price tag for a winger.  His early-season showing lessens the odds of that but it's certainly quite possible that his next deal is in the $10MM range which would still make him one of the top-priced forwards in the league.  That thought could ultimately take some cap-strapped teams out of the equation as they may not want to part with some top assets for what likely would only wind up being a rental player, as talented as Hall may be.
Photo courtesy of USA Today Sports Images.