The Columbus Blue Jackets kick off their 2019-20 season tonight by welcoming in the Toronto Maple Leafs for a home ice tilt, and will look a lot different than the team that swept the Tampa Bay Lightning out of the first round. The Blue Jackets watched Artemi Panarin, Sergei Bobrovsky, Matt Duchene, Ryan Dzingel and others leave in free agency, while committing to a much younger forward core that will include names like Emil Bemstrom and Alexandre Texier. It's easy to forget that Pierre-Luc Dubois also only turned 21 a few months ago, and after an excellent 27-goal 61-point season in 2018-19 he'll be leaned on as one of the leaders up front.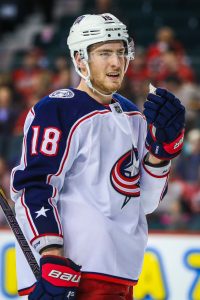 Unfortunately for the Blue Jackets, Dubois' early entrance to the NHL means that he is also on the final year of his entry-level contract and is scheduled for restricted free agency next summer. With other teams starting to lock up their young players in order to avoid the long negotiations that we saw this year, Dubois is an interesting player to keep an eye on. Pierre LeBrun explained on the latest Insider Trading for TSN that Dubois' camp is open to talking soon with the Blue Jackets about a possible extension:
So much pressure on Columbus after those offseason defections to get this core, franchise center signed. I'm told that agent Pat Brisson is receptive to the idea of sitting down at some point in the fall and get the process started. I think the Jackets are going to come early with a big number.
Selected third overall in 2016, Dubois made headlines right away after Blue Jackets GM Jarmo Kekalainen took him ahead of the expected choice, Jesse Puljujarvi. The 6'3″ center scored just 55 points in a disjointed QMJHL season the year after his draft, but proved he was more than ready to step into the NHL right away the following season. Finding his footing as a rookie (alongside Panarin), Dubois recorded 20 goals and 48 points and was one of the team's best players in a short playoff appearance. He came back even stronger in 2018-19 and is now arguably the team's most important forward.
Getting an extension done before his third season may end up being the right move for the Blue Jackets, especially if he shows that he can carry the load for the team without some of the departed talents. The first two picks from his draft, Auston Matthews and Patrik Laine, signed polar opposite contracts out of their entry-level deals, making it hard to know exactly where Dubois will fit in.
Photo courtesy of USA Today Sports Images