The frozen restricted free agent market this summer likely has some general managers around the league thinking about how to avoid a similar situation in the future. We've already seen the Arizona Coyotes and Colorado Avalanche hand out long-term extensions to Clayton Keller and Samuel Girard respectively, and now there may be another name to add to that group. Montreal Canadiens GM Marc Bergevin told Renaud Lavoie of TVA Sports that the team has started extension talks with Max Domi, who is entering the final season of his two-year bridge deal signed last summer.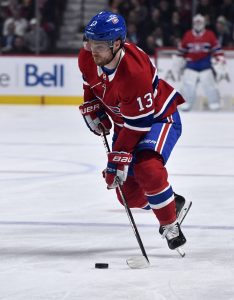 Domi, 24, signed that two-year $6.3MM deal with the Canadiens just a day after the team acquired him from the Coyotes in exchange for Alex Galchenyuk. At the time it was a nice bridge deal for both sides, rewarding a player that had obvious talent but experienced massive inconsistency during his second and third years in the league. In fact, Domi had only scored nine goals in 82 games during the 2017-18 campaign and there were real concerns about his ability to put the puck in the net. Those concerns have completely disappeared after one season in Montreal, as Domi not only scored 28 goals but became the team's first-line center and most dangerous offensive player.
His 72-point season in Montreal completely changes how the bridge deal looks today, as a $3.15MM cap hit makes Domi one of the most valuable assets in the league—save for those on entry-level deals of course. That also means that he'll be getting a huge raise on his next contract, especially if it buys out several unrestricted free agent seasons. Domi will be two years from UFA status when this contract ends.
After finishing 15th among all forwards in the league in even-strength assists with 37, there's good reason to believe that Domi will soon become the Canadiens' highest-paid forward. That honor currently goes to Jonathan Drouin with his $5.5MM cap hit, who also looks like something of a bargain as RFA contracts continue to rise. In fact, Montreal has set themselves up with quite a bit of cap room even while carrying Shea Weber and Carey Price's huge contracts, and should have more than enough room to compensate Domi fairly.
Photo courtesy of USA Today Sports Images