The team at the Spittin' Chiclets podcast have now moved on to breaking news, as they reported this weekend that veteran forward Scottie Upshall would be attending Dallas Stars camp on a professional tryout. Today, Sean Shapiro of The Athletic confirmed the report.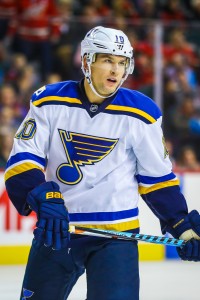 Upshall, 35, didn't play last season thanks to a knee injury that caused him to fail his physical with the Edmonton Oilers in training camp. He had been signed to a PTO by the Oilers as well, something that he's used to at this point after going through it several times in the last few years. There's good reason for interest in Upshall even without any games played last season as he was previously a pretty effective bottom-six player for more than a decade.
Originally drafted sixth overall in 2002, Upshall never did quite live up to the high expectations put on him after an excellent junior career with the WHL. Even without his offensive game really blooming at the NHL level however, the feisty forward carved out a long career and played 759 regular season games for six different teams. Most recently he suited up 63 times in 2017-18 with the St. Louis Blues and recorded 19 points.
A PTO certainly does not guarantee Upshall a spot on the Dallas roster, but it does provide a place for him to show he can still hack it at the NHL level and perhaps secure a contract somewhere around the league. If the Stars believe he could be a valuable depth option perhaps it will be them who would offer that deal, but you can bet several teams will be keeping an eye on him.
Photo courtesy of USA Today Sports Images