Among the unsigned restricted free agents, Matthew Tkachuk of the Calgary Flames may not be getting enough headlines. While many are focused on Mitch Marner, Brayden Point and Mikko Rantanen as the premier names still without contracts, Flames fans are holding their breath hoping that something can be finalized with their pesky star forward. After stepping right into the league after the 2016 draft and showing he perhaps should have gone higher than sixth overall, Tkachuk broke out last season and scored 34 goals and 77 points in 80 games. Those totals are made even more incredible when you realize that he did it without the benefit of playing alongside Johnny Gaudreau and Sean Monahan.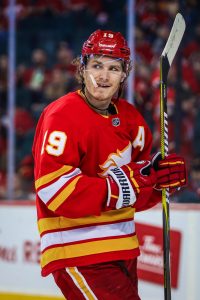 The Flames have worked all summer to try and get themselves in a position where they can afford to sign Tkachuk, and it sounds like his side has simply waited for them to clear that room. Speaking with media including TSN at a charity golf tournament, Tkachuk's agent Don Meehan of Newport Sports explained that they "set a position" quite some time ago and have stuck to it:
We took an approach where by we would be very proactive and progressive with Calgary. We started early, and we set a position. We didn't really have to wait. We formulated a position that we thought would be fair and we gave that to Calgary probably in the early part of June.

So we're involved in negotiations right now, but as far as I'm concerned it's not a waiting game. We made a decision in terms of what we think is fair and relevant for the player and we're working with Calgary now.
Even with his outstanding offensive production it might be hard to find a direct comparable for Tkachuk. There is so much more to the 21-year old forward's game than just his scoring, including the innate ability to get under an opponent's skin and get them to take bad penalties. In fact, Tkachuk has been involved in several altercations throughout his career that have ended in suspensions for the other team. Players like Marner and Rantanen don't have that same impact, though they do affect the game in other ways.
For Calgary, getting Tkachuk signed and in training camp is obviously the best case scenario. But with just over $73.7MM committed to just 20 players and razor thin depth on defense since Juuso Valimaki suffered a long-term injury, the team has to be careful how much money they offer the young forward. A long-term deal could easily see him become the highest paid player on the team—an honor currently bestowed upon Gaudreau and captain Mark Giordano who carry $6.75MM cap hits—and put the Flames in an even tighter financial situation for the next few years. Still, while a bridge deal might make more sense for the Flames right now there's no way to know if Tkachuk would even contemplate such a short contract. His camp obviously has a number and length in mind and the two sides will have to try and work out something close to that in the next few weeks.
Photo courtesy of USA Today Sports Images