While August has been pretty quiet in terms of big headlines, there were a few newsworthy items around the league over the past seven days.
Barbashev Looking Overseas: When the Blues re-signed defenseman Joel Edmundson following his arbitration award, their salary cap picture came into greater focus.  They still have to re-sign center Ivan Barbashev but with less than $2MM in cap room to do so, things could get a little dicey.  His agent Dan Milstein muddied the waters when he indicated that the 23-year-old is "looking at options on both sides of the ocean".  It's believed that Barbashev is looking for a four-year deal around $2MM per season which may be difficult to get if he opted to return home to play in the KHL.  Nonetheless, it's possible that it could him just a little bit more leverage as he and the Blues try to get a deal done.
Priskie To Carolina: When the calendar flipped to August 16th, quite a few NHL-drafted players became unrestricted free agents.  The top player in that class was Quinnipiac defender Chase Priskie, originally a Washington draft pick.  He didn't stay unsigned for very long as the Hurricanes signed the 23-year-old to a two-year, entry-level contract.  He was one of ten finalists for the Hobey Baker Award in 2018-19 and is believed to be somewhat close to being NHL-ready.  However, with four established right-shot defenders in front of him on Carolina's depth chart, he may have to bide his time in the minors for a little while first.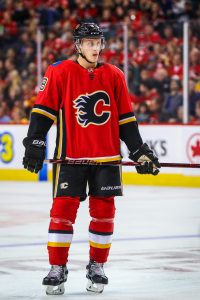 Torn ACL For Valimaki: Calgary's back end was dealt a blow as youngster Juuso Valimaki sustained a torn ACL in summer training.  No timeline for recovery was announced but these injuries typically take six months or longer to recover from.  He was expected to contend for a full-time roster spot and potentially allow them to move defenseman T.J. Brodie to free up some cap room.  Instead, the Flames will now need to keep Brodie and they are now on the lookout to acquire another blueliner.  With Calgary needing to free up cap space to re-sign wingers Matthew Tkachuk and Andrew Mangiapane, expect GM Brad Treliving to be discussing trades involving some forwards in the coming days and weeks.
GM Extensions: The debate around whether or not Carolina GM Don Waddell should be able to operate without a contract can be put to rest now as the Hurricanes signed him to a three-year deal.  He assumed the GM duties last year and the team quickly turned things around so the fact he'll be sticking around for a while should come as no surprise.  Meanwhile, the Canucks have also committed to their GM for three more years as they've agreed to terms with Jim Benning on a three-year extension.  Benning has been in the role since 2014 and while the team hasn't had a lot of success during his tenure, he has assembled a very strong group of young players to give them a very promising core to build around.
Erne To Detroit: The Red Wings added some depth on the wing, acquiring Adam Erne from Tampa Bay in exchange for a 2020 fourth-round pick.  The Lightning weren't likely to be able to afford to re-sign him given their salary cap situation (they're saving room for RFA center Brayden Point) while they only have one contract slot available which is earmarked for Point so a move needed to be made.  Meanwhile, at 24, Erne could figure into Detroit's plans for a while for what amounts to a pretty low acquisition cost.  Shortly after the trade, the winger inked a one-year, $1.05MM contract.
Photo courtesy of USA Today Sports Images.