After making some changes on July 1 in the form of trades, the Toronto Maple Leafs found themselves with another pair of restricted free agents to sign. It didn't take long to work out new contracts though, as today the Maple Leafs announced new deals for both Alexander Kerfoot and Cody Ceci. Kerfoot's four-year contract will be for a total of $14MM, while Ceci's should come in at just one-year, $4.5MM. Both will be unrestricted free agents when the deals expire.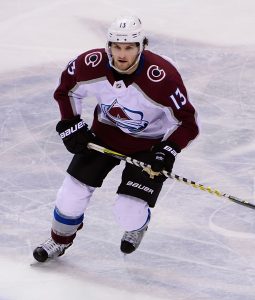 Kerfoot, 24, was acquired in a deal along with Tyson Barrie that saw long-time Maple Leafs center Nazem Kadri head to the Colorado Avalanche. The young forward is coming off consecutive seasons with at least 42 points after signing as a free agent out of Harvard in 2017. Kerfoot decided not to sign with the team that drafted him 15oth overall in 2012, turning down any offer the New Jersey Devils made.
A great skater, Kerfoot does most of his damage from in tight after getting behind the defense or finding loose pucks around the net. Though he isn't the bruising, physical winger that many have pined for in Toronto, he does bring more skill to a lineup designed by GM Kyle Dubas to rely on it. He also brings some much needed versatility, able to play both center and left wing when called upon. The Maple Leafs did sign Jason Spezza and Nick Shore on the first day of free agency, but it's tough to see either of them in a full-time third-line center role at this point in their careers. At a $3.5MM cap hit, Kerfoot could be a reasonable option in the middle behind Auston Matthews and John Tavares.
Ceci, 26, will get a chance to prove that he can excel in reduced minutes in Toronto. The right-handed defenseman was often asked to take on the opponents best when he was with the Ottawa Senators, usually to disappointing results. Though armed with all the physical skills needed to be an elite player in the NHL, Ceci still hasn't been able to put everything together and become that true top-pairing defenseman. He is however coming off a 26-point season with the Senators and is some much-needed depth on the right side for Toronto after they let Ron Hainsey leave and traded Nikita Zaitsev.
The question now though is how the Maple Leafs will afford to fit their other restricted free agent into the fold. Mitch Marner is still unsigned and Toronto's cap situation is getting crowded once again. They currently project to have just $3.76MM in cap space for next season, though they will be able to move Nathan Horton's $5.3MM hit onto long-term injured reserve. They could also potentially do that with both Zach Hyman and Travis Dermott at the beginning of the season, though both players are expected back before long. The Maple Leafs do have an advantage with the proximity of their minor league club, allowing them to play home games with a reduced roster in order to bank cap space, but either way it is going to be quite the dance to get everyone in this season. In fact, there very well might be some additional moves required before the start of the year depending on where Marner's final number ends up.
Photo courtesy of USA Today Sports Images