The Pittsburgh Penguins have decided to reward their head coach with an extension, inking Mike Sullivan for another four years. The deal will start at the end of the 2019-20 season and take him through 2023-24. GM Jim Rutherford issued a statement on his coach:
Mike has done a great job delivering four, 100-plus point seasons with our team. To win back-to-back Stanley Cups in this era speaks volumes of him as a coach. His instincts in managing the inter-workings of our team both on and off the ice has been impressive.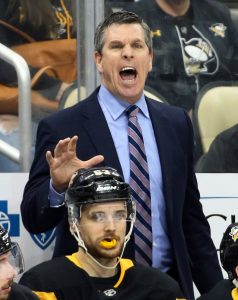 Sullivan was named head coach of the Penguins in 2015 after the team moved on from Mike Johnston mid-season, only to immediately lead them to a Stanley Cup after going 33-16-5 down the stretch. He'd come back the next season with an even more impressive performance, leading the Penguins to a 50-21-11 record in the regular season and a second consecutive championship. In all four years with Sullivan as head coach for at least part of the season, the Penguins have finished with at least 100 points.
Even with all that success however, there was some speculation over Sullivan's future with the team. Reported clashes with start players like Phil Kessel and Evgeni Malkin along with an embarrassing exit in this year's playoffs—the Penguins were swept out of the first round by the New York Islanders—led reporters to ask GM Jim Rutherford about his coach's performance and future. Speaking with Josh Yohe of The Athletic (subscription required) Rutherford came to the defense of Sullivan immediately:
Personally. I believe this was the best coaching job Mike Sullivan has done since he's been with the Penguins. The dynamic of the team this season, it was difficult for him to deal with. This team never came together. It just never did. I don't want to get into all of the details. But Mike had to deal with a lot of different circumstances this year. He had to keep things under control. It's impressive that he still pulled off a 100-point season.
Even with that support, Sullivan had just one year left on his contract and when the team brought in famed minor league coach Mike Vellucci recently there was talk that he might be on the hot seat. No more, as Sullivan will now have job security and a chance to take the Penguins back to the playoffs again with a different looking lineup next season.
Photo courtesy of USA Today Sports Images