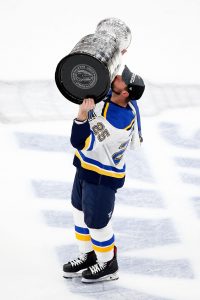 What's better than going out in style? After a long professional career, Chris Butler has decided to retire after finally lifting the Stanley Cup above his head. Though he didn't play in the postseason for the Blues, he was on the ice to celebrate their win after appearing in 13 games during the regular season. The 32-year old released a letter to fans about his journey and hopes to inspire the next generation of players from the St. Louis area.
Butler served as captain of the San Antonio Rampage this season, playing 51 games in the AHL to close out his career. A fourth-round pick from 2005, he went to the University of Denver and developed into a reliable two-way presence who quickly made the transition to the professional level. Suiting up for the Buffalo Sabres, Calgary Flames and Blues over parts of 11 NHL seasons, he totaled 407 games played and recorded 86 points. On three different occasions he averaged more than 20 minutes a night for an entire season, but was never the lead offensive weapon from the blue line.
In his letter, he explains that lifting the Stanley Cup was never even his dream, he never got that far:
I could say the last five years being a member of the Blues organization was a dream come true but that would be a lie. It was a dream that never existed for me. Growing up in St Louis, as a hockey player, my dream was to someday be able to get a college scholarship and help my parents by paying for my education, that was it.
Butler did a lot more than that, earning close to $8MM in his career according to CapFriendly. Happy retirement, Chris.