The New York Islanders swung and missed on Artemi Panarin, but will get a pretty good consolation prize anyway. Captain Anders Lee has decided to re-sign with the team, inking a seven-year contract worth $49MM. Lee had a chance to test the market himself, but had always indicated he wanted to return to the Islanders. He'll now take his place as the highest paid player on the team, with a cap hit of $7MM per season.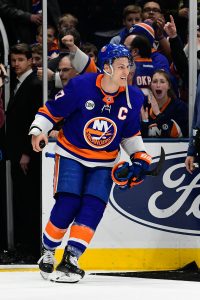 Lee, 28, has scored 102 goals over the last three seasons including 40 in 2017-18. The 6'3″ winger is a force in front of the net and can go on impressive streaks where he seems to score every night. While his offensive numbers dropped last season, his defensive game improved like almost everyone else under Barry Trotz and he was a huge part of the incredible improvement the Islanders experienced. Good possession numbers, even-strength production and physical play equal a very valuable player, and given his obvious leadership skills it seemed like a return was always in the cards.
Still, there was speculation about other teams reaching out to try and get their hands on Lee. After failing to sign him yesterday the Islanders could no longer offer him an eighth contract year, meaning those other teams may have been on the same footing theoretically. It's obvious Lee never wanted to leave though, and actually announced that he was staying on his own Twitter immediately.
The Islanders have now re-signed a trio of key forwards over the last few months, inking Lee, Jordan Eberle and Brock Nelson to keep this group together. While they did lose Valtteri Filppula today in free agency and still don't have a goaltender to pair with Thomas Greiss, the team is relatively unchanged from last season and should still be contenders in the Metropolitan Division. With just over $13.6MM in cap space, GM Lou Lamoriello still has some flexibility when it comes to improving his club, though there is an obvious lack of talent on the free agent market at this point.
Photo courtesy of USA Today Sports Images