The Tampa Bay Lightning do not have to trade Ryan Callahan anymore. The team has placed the veteran forward on long-term injured reserve with degenerative disc disease of the lumbar spine. He is not expected to play professional hockey again. Tampa Bay GM Julien Brisebois put out a statement through team reporter Caley Chelios:
He's such a proud competitor, such a fierce competitor. I know he was planning to not only play out this contract, but sign another contract after that. We had multiple conversations in the second half of the season about his future, so that was very sad news for him.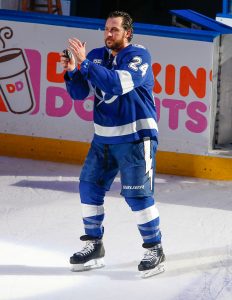 Callahan, 34, was heading into the final year of his current contract that carries a $5.8MM cap hit, but held a no-movement clause and partial no-trade clause. Even with that trade protection he seemed destined to be moved this summer to clear room for the Lightning to sign a group of restricted free agents including Brayden Point. That won't be happening anymore, as instead the team will use the added flexibility created from placing him on LTIR (far from a perfect solution, as CapFriendly details here). Callahan will still earn the $4.7MM left on his deal, though likely part or all of it will be paid out by insurance.
He won't retire until his contract is officially over, but this marks the end of an exceptional career for Callahan. Not known as an exceptional talent in junior, Callahan dropped to the fourth round in 2004 where the New York Rangers picked him 127th overall. His hard-nosed style and work ethic was enough to get him selected, and he would eventually grow into a dominant offensive piece for the Guelph Storm. Upon graduating to the AHL, Callahan's game translated perfectly to the professional scene and he recorded an outstanding rookie season with the Hartford Wolf Pack, scoring 35 goals and 55 points in just 60 games.
Eleven more AHL games the next season and that was it for the scrappy forward, who joined the Rangers and quickly became a huge part of their core. In his first full season in the NHL he recorded 22 goals and was an alternate captain by 2009. Taking home a silver medal in the 2010 Olympics, Callahan would suit up again for Team USA in 2014. As captain of the Rangers he was dealt to the Lightning that year, where he has been ever since.
386 points, 428 penalty minutes and 757 games played will be Callahan's regular season totals, a career defined by the willingness to do anything to win. Unfortunately he never did get to raise the Stanley Cup, despite 121 playoff games to his name.
Photo courtesy of USA Today Sports Images