The New York Rangers are on their way to a quick rebuild, armed with a huge number of young talented players that should make an NHL impact as soon as this season. That's why they've been connected to several top free agents, who could potentially propel them back into the playoffs right away. The question of whether they can afford said free agents has also been asked however, given some of the bad contracts still on the books for another few seasons. GM Jeff Gorton spoke about that with Larry Brooks of the New York Post about the team's offseason, and admitted that they haven't ruled out buying someone out this summer.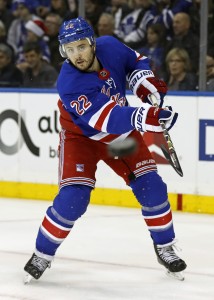 Brooks suggests two candidates for the process, Brendan Smith and Kevin Shattenkirk, who combined would save the Rangers more than $8MM in cap space this season if bought out. The first buyout window opens on Saturday, but another one will also open later in the summer as long as multiple restricted free agents file for arbitration (the Rangers currently have six players in the organization eligible to file). The scribe also notes that the team has found no interest on the trade market for either player, even offering to retain 50% of their remaining salary.
Smith, 27, has performed poorly since signing his four-year $17.4MM contract with the Rangers in 2017. He ended up clearing waivers and being sent to the minor leagues in 2017-18, and even suited up at forward several times this season just to get him into some game action. In 63 games during the 2018-19 season he recorded just 13 points.
Shattenkirk meanwhile was the prize of free agency in 2017, but ended up signing just a four-year $26.6MM deal in order to play for New York. That relatively short term looks like a brilliant decision by the Rangers now, given how far his game has fallen since the deal was inked. Once a premiere offensive defenseman that logged at least 40 points in five consecutive (full-length) seasons, Shattenkirk has seen his point production fall off and his playing time with it. He recorded just 28 points in 73 games this season and was a healthy scratch at times. While he still provides excellent possession numbers, it's clear that head coach David Quinn can't trust him enough in the defensive zone to give him the 22+ minutes a night he was once earning in St. Louis.
Even if they don't go down the buyout road, the Rangers are in pretty good health financially when it comes to the salary cap. Only two players on the entire roster are signed for more than two seasons, and both—Brady Skjei and Mika Zibanejad—are young enough that a decline should not be expected during those deals. Nearly the entire forward core is on their last season under contract, meaning the team can structure their salary situation however they please over the next 12 months. If that includes going after a big name in free agency so be it, but it also could revolve around new deals for players like Chris Kreider, who will enter next season as a pending unrestricted free agent and top trade bait if the year starts without an extension.
Photo courtesy of USA Today Sports Images