The Florida Panthers have been linked to Sergei Bobrovsky since he made his intention to hit free agency known, but with Roberto Luongo and James Reimer still under contract it didn't seem possible without an additional transaction. Recently a report surfaced that the Panthers are trying to find a trade for Reimer, but Luongo's future still was unclear. Today, Frank Seravalli of TSN tweeted that a decision is expected to come from Luongo over the next few days on what he plans to do this season: play, retire, or start the year on long-term injured reserve.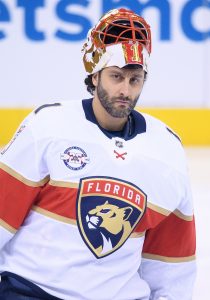 Luongo, 40, has a lingering hip issue that has limited him in recent seasons and theoretically end his career if he decided not to push it further. That could be a solution for the Panthers, who could put his contract on long-term injured reserve for some additional cap flexibility or potentially trade it to a team looking to hit the cap floor. Luongo currently has three years remaining on his current deal, but is owed just over $3.6MM in actual salary on his extremely front-loaded deal. That structure is why retirement is a terrible option for the Panthers (and Vancouver Canucks, who signed the deal in the first place and are retaining some of the salary).
Deals like Luongo's 12-year contract were outlawed in the latest CBA negotiations, with a cap recapture penalty being put in place for any player that retires early. The idea was to punish teams for adding years to a contract that were never meant to actually be played just to reduce the average annual value. Though there is no consensus currently on the exact numbers, Seravalli tweets that if Luongo were to retire right now the Canucks would face a $3.03MM cap recapture penalty for the next three years, while the Panthers would face a $1.09MM penalty for the same duration.
Still, there is always the option of playing again. While Luongo wasn't his usual self last season due to the injury, he's only one year away from a season in which he posted a .929 save percentage, his best since 2004. If the team can find a way to move Reimer, perhaps in a reduced role he could still be an effective option even at his high price tag.
Photo courtesy of USA Today Sports Images