Even while the Stanley Cup Final is still happening, this time of year brings plenty of interesting trade speculation. Today, Pierre LeBrun of The Athletic tweeted that the Toronto Maple Leafs and Los Angeles Kings have discussed a potential Patrick Marleau trade, though they haven't been able to find a fit yet. Marleau has a full no-movement clause and can decide his future, though LeBrun points out the connection he has to new Kings head coach Todd McLellan from their days in San Jose.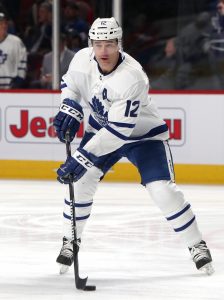 Marleau, 39, saw his production decline severely this season, posting his lowest goal total since he was an 18-year old rookie in 1997-98. Those 16 tallies and 37 points were a disappointing result for the legendary forward, who continued his iron man streak and has now completed ten straight seasons without missing a game. Still, he is looked to as an important leader for the Maple Leafs and has been leaned on by head coach Mike Babcock in important situations. His defensive responsibility is still there, and the Maple Leafs have even used him at center sporadically when necessary.
Even with all that however, a trip to the west coast certainly wouldn't be about improving the Kings roster for next season. Los Angeles is in the early stages of a rebuild, and would likely only entertain the idea of a Marleau trade if it meant they could either rid themselves of a bad contract or acquire some additional assets. The veteran forward has just one year remaining on his contract and is owed just $1.25MM after his signing bonus is paid out on July 1, but still carries a $6.25MM cap hit for the 2019-20 season. That's exactly the reason the Maple Leafs are exploring a trade, given their impending cap crunch.
The Kings and Maple Leafs have been trading partners recently, as the two hooked up on a swap revolving around Jake Muzzin earlier this season. That saw Toronto hand over their first-round pick along with two highly touted prospects, helping along the Los Angeles rebuild. Perhaps there is more to be discussed, but we'll have to wait to see if Marleau is even willing to waive his no-movement clause at all.
Photo courtesy of USA Today Sports Images